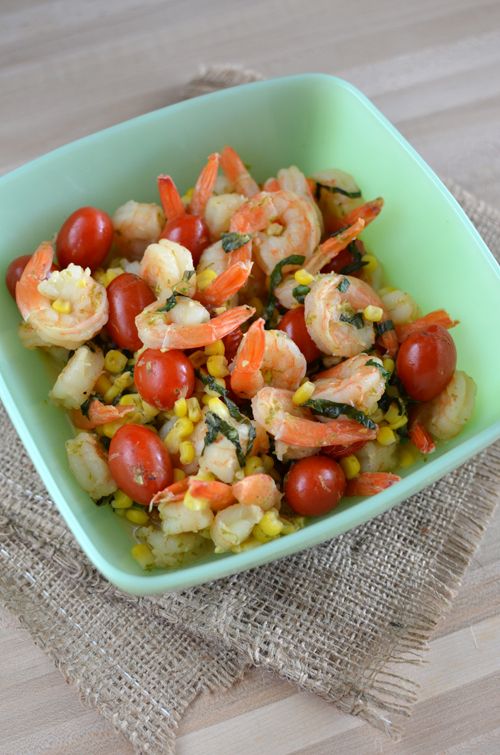 Another week is in the books. And although it felt like this one went by pretty quickly (for me, anyway), I'm still excited to get home from work tonight and catch up on The Chew. I've seen updates on their Facebook page about such guests as Fabio Viviani, Gina Torres, Denise Richards and the band, Foreigner, and I can't wait to see the goodies they'll all bring to the table!
To go along with Mario's Lobster Roll and Summer Shandy, featured in the YouTube video below, I made an amazing dish of Shrimp with Corn & Basil. Originally created by Michael Symon, this is a one-pan meal that will knock your socks off and is perfect for beating the Summer heat! Flavored with garlic, citrus juices and spicy red chile flakes, this quick dish is one that you'll definitely be adding to your weekly rotation.
Tune In: Fresh Daily. 1e|12p|c on ABC.
Shrimp with Corn and Basil
Ingredients
1 lb md shrimp, shelled and deveined
2 tbsp extra virgin olive oil, plus extra for finish
Kosher salt, to taste
Freshly Ground Pepper, to taste
Crushed Red Chile Flakes, to taste
1 md red onion, sliced
2 ears corn, kernels removed
1/2 bunch fresh basil, chiffonade
1 pint cocktail tomatoes
2 limes, zest and juice
2 cloves garlic, minced
1 tbsp unsalted butter
Instructions
Heat a skillet over medium-high heat. While the skillet is heating, season the shrimp with salt and pepper.
Add the olive oil to skillet, and once hot, add the shrimp. Sear on both sides. Add the onion, garlic and chili flakes to taste. Add a pinch of salt, and cook until softened. Add the corn and tomatoes, and cook for 2 to 3 minutes. Add lime zest and juice and a splash of water, cooking for another 1 to 2 minutes.
Remove pan from heat and add basil, butter and a last drizzle of olive oil to finish. Transfer to plate and serve.
http://mybakingheart.com/2013/07/19/spend-summertime-with-the-chew/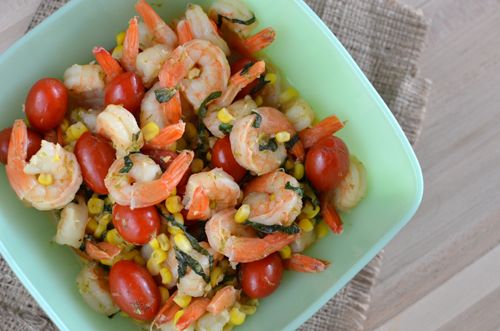 The Chew celebrates and explores life through food – from cooking to food trends, restaurants, holidays and more all aimed at making life better, fuller and more fun. Featuring celebrity chefs Mario Batali, Michael Symon, and Carla Hall, lifestyle expert Clinton Kelly and fresh face of healthy living Daphne Oz, "The Chew" is a leap forward into a delicious new kind of talk show.
Watch The Chew Weekdays at 1e|12p|c on ABC!

Disclosure: Compensation was provided by ABC via Glam Media. The opinions expressed herein are those of the author and are not indicative of the opinions or positions of ABC.