I have a new favorite libation. I've always had a thing for pineapple and coconut-flavored drinks, but I was over the moon when Bacardi announced their newest flavored rum, Pineapple Fusion. It blends perfectly with any citrus juice, making a lovely little cocktail. And since this has been a long week, I say it's high time for one!
The beauty of this drink is that it includes coconut water, the only pure liquid that's second to water. It's said to help with dehydration, acne, age spots, wrinkles, stretch marks and weight loss. And if all that is true, I'll take a gallon please!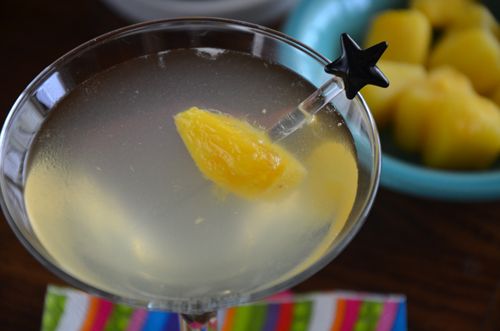 Ingredients
3 oz Naked Coconut Water, pineapple flavored
1-1/2 oz Bacardi Pineapple Fusion rum
1 tsp fresh lemon juice
2 oz club soda
Pineapple chunks, optional
Instructions
Excluding the club soda, pour all liquids into a shaker filled with ice. Shake well, then add the soda and stir. Strain into a large martini glass, garnish with pineapple and serve.
Adapted from: Hungry Girl
http://mybakingheart.com/2013/07/12/pineapple-coconu-tini/