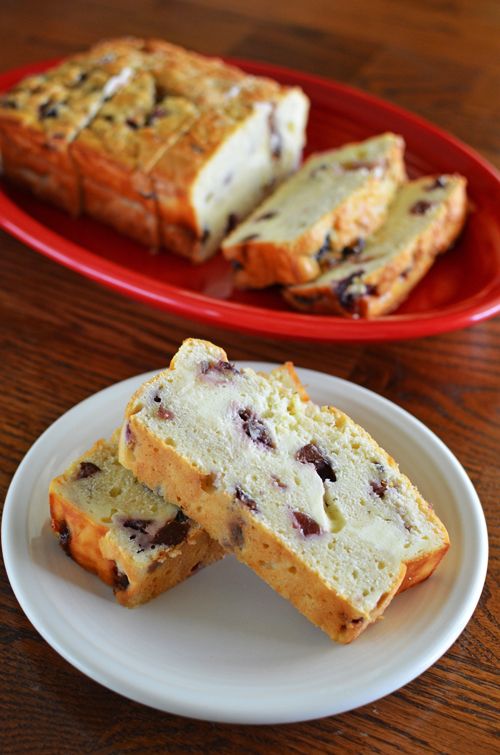 Seems like it's 'Cherry Week' around here!
As you know, I've got quite an abundance of fresh cherries in my fridge. And instead of just snacking on them here and there, I wanted to do something a little different. So after a little searching, I found a recipe in my files that I'd been meaning to make for a long time. It's adapted off of a Blueberry Bread, and I'll be the first to shout from the rooftops just how amazing this little loaf is. I mean, just look at that layer of cheesecake in the middle! Totally dreamy, right?
The prep time goes pretty quickly and the only hard part is waiting the 55 to 60 minutes for it to come out of the oven. It makes a wonderful breakfast or afternoon treat, and I love pairing it with a vanilla latte!
Cherry Lime-Cream Cheese Bread
Ingredients
For the Filling:

8 oz lowfat cream cheese, at room temperature
1/4 c Splenda for Baking
1 tbsp all-purpose flour
1 lg egg
1 tbsp lime zest

For the Glaze:

1 tbsp Splenda for Baking
1/2 tsp pure vanilla extract
1 tsp water

For the Bread:

1/2 c unsalted butter, at room temperature
1/4 c Splenda for Baking
1/4 tsp Kosher salt
1 tsp pure vanilla extract
2 lg eggs
1-1/2 c + 1 tbsp all-purpose flour, divided
1 tsp baking powder
1/3 c skim milk
2 c fresh cherries, pitted & coarsely chopped
Instructions
Preheat oven to 350 degrees F. Grease & flour a loaf pan; set aside. In a medium bowl, combine the filling ingredients together: cream cheese, Splenda for Baking, flour, egg and lime zest; beat until smooth, then set aside.
Stir together the glaze ingredients: Splenda for Baking, vanilla extract and water, whisking until smooth; set aside.
For the bread, cream butter and Splenda for Baking until fluffy. Add salt and vanilla extract. Add eggs to the sugar mixture, beating until creamy. Set aside. In another bowl, combine 1-1/2 cups of flour and the baking powder. Add this dry mixture, alternately with milk, to egg mixture. Coat cherries with 1 tablespoon of flour, then add them to the batter.
Pour 1/2 of the batter (or a little less) into the prepared loaf pan. Layer the filling over the batter and then finish with remainder of batter. This will create a layer of "cheesecake" between the cherry batter. Pour glaze over top of unbaked loaf and bake 55-60 minutes, or until a toothpick inserted into the middle of the cake comes out clean.
Adapted from: JuJu Good News
http://mybakingheart.com/2013/07/10/cherry-lime-cream-cheese-bread/