After a "cold" front blew through North Texas this weekend, the mornings have been crisp and the afternoons breezy. Which is why I think today calls for a drink! And I found a perfect recipe for one, from the folks at Lucky Layla Farms.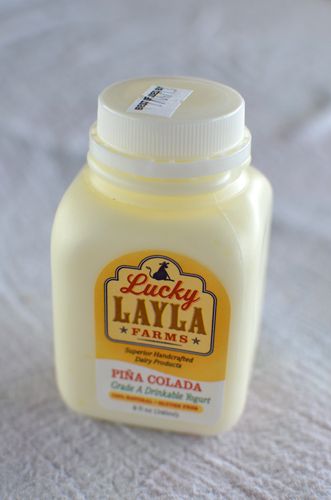 This local dairy farmer produces drinkable yogurts, handcrafted cheeses, butter and caramel milk (CARAMEL milk, ya'll!). And each of their products is all-natural and handmade, using milk from their own pasture-fed cows with no added hormones. This drink includes everything I adore about summertime: fruity rum, crunchy ice and a smooth, good-for-you yogurt. Pour it into a frosty margarita glass and deem the hour happy!
'Lucky Layla' Pina Coladas
Ingredients
1 (8 oz) bottle Lucky Layla Piña Colada yogurt
3 oz Bacardi Pinapple Fusion rum
2 c crushed ice
Instructions
Place all ingredients into an electric blender and blend at high speed for a short length of time. Strain into a margarita glass and serve with a straw.
Slightly adapted from: Lucky Layla Farms
http://mybakingheart.com/2013/07/02/lucky-layla-pina-colada/