If asked to recreate a more beautiful weekend, I don't think I could: eating an amazing array of savory dishes and sweet treats, meeting new friends, listening to the sage advice of renowned bloggers, being inspired to be my best self, making family memories and doing it all at the most magical place on earth.
Writing this post has been somewhat of a struggle. While I couldn't wait to share with you all of the precious details from Food Blog Forum, I was becoming a bit depressed at the lack of magic that followed me home. When you're treated like royalty 24 hours a day, it's hard to return to reality. I missed my new blogging buddies, the constant catering and that dreamy Disney feeling. Why there still aren't nightly fireworks in my backyard, I'll never understand. 😉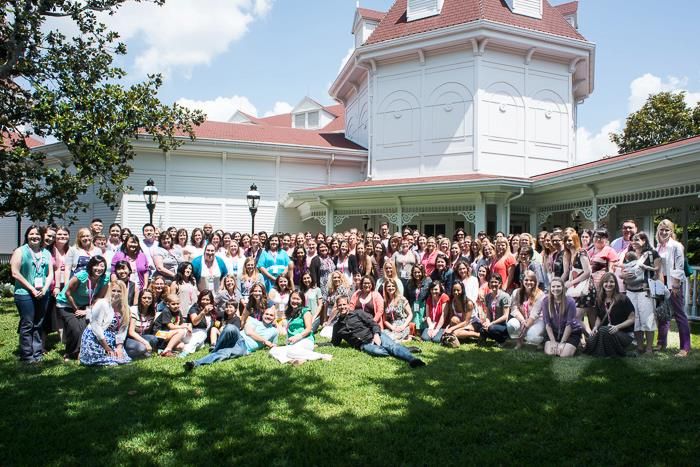 Friday night's Welcome Reception was incredibly fun, and something I was really happy to see on the agenda. Knowing bloggers through the internet is incredibly different from knowing them in person. You feel like you've known them all your life, but when you finally get to put faces to names and dole out hugs, it's a lovely feeling. I only got a couple of pictures that night, as I was super busy handing out business cards and chatting it up with all the attendees (like my precious friend, Joelen of What's Cookin', Chicago?). I hadn't seen her since Foodbuzz Festival in 2011, so it was a lovely treat!
After the reception, Kasey from Kasey's Kitchen and I headed to a small dinner at the Hollywood Brown Derby, given by GLAM Media and Demaris of Kitchen Corners. Along with a handful of other bloggers, we noshed on seafood appetizers, bison steaks and berry cobbler… and sipped a colorful & fancy drink, made specially for Star Wars Weekends at Hollywood Studios.
Saturday morning began with a glorious Continental Breakfast Buffet, provided by Walt Disney World and the Grand Floridian Conference Center. To get the day started, we had fresh fruit, bagels & toast, jams, spreads and a huge coffee & juice bar for caffeine lovers… I was in heaven!
After devouring breakfast, our sessions began. And I don't think I can ever accurately describe just how eye-opening they were. When you've been blogging for over five years, you think you know just about all there is to know about it. But the world is constantly changing: from technology to community, it's ever evolving. We were schooled on redefining success and setting goals, dipping our toes in the 'video' pool, juggling the many tools of technology and building a passionate community. We also had the honor of listening to Walt Disney World Imagineer, Tim Warzecha, as he presented a magical story of the design process behind Sanaa, an African & Indian-themed restaurant at Kidani Village inside Disney's Animal Kingdom Villas. I definitely left Saturday's sessions in awe, with a wealth of information swirling around in my head.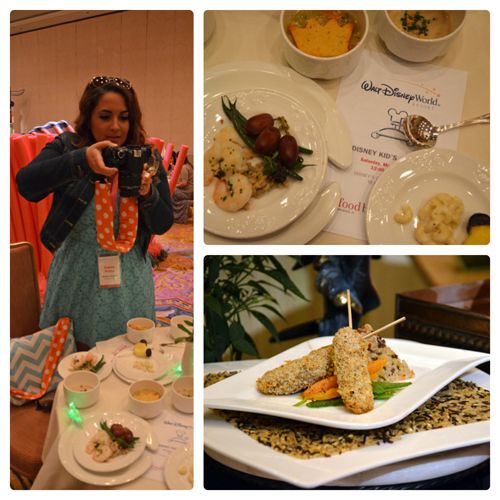 In between those sessions, lunch was served in royal style. It was something all of us had been looking forward to, even before we'd arrived on property.
A year ago, Disney rolled out a brand new initiative, making nutritious eating and physical activity simple and fun. One of those components is the Mickey Check, a tool that makes it easier to identify nutritious choices in stores, online, and while on vacation at Walt Disney Parks and Resorts. Foods that receive the Mickey Check meet Disney Nutrition Guidelines that promote nutritious foods and limit calories, saturated fat, sodium and sugar.
Kids' complete meals must include at least three of the following food groups: fruits and vegetables; lowfat dairy; whole grains; or lean protein, beans, eggs and nuts. Chefs at Disney Parks have re-imagined many kids' menu items to make existing, delicious meals more nutritious… and we were treated to an incredible sampling of these healthy dishes served throughout the parks.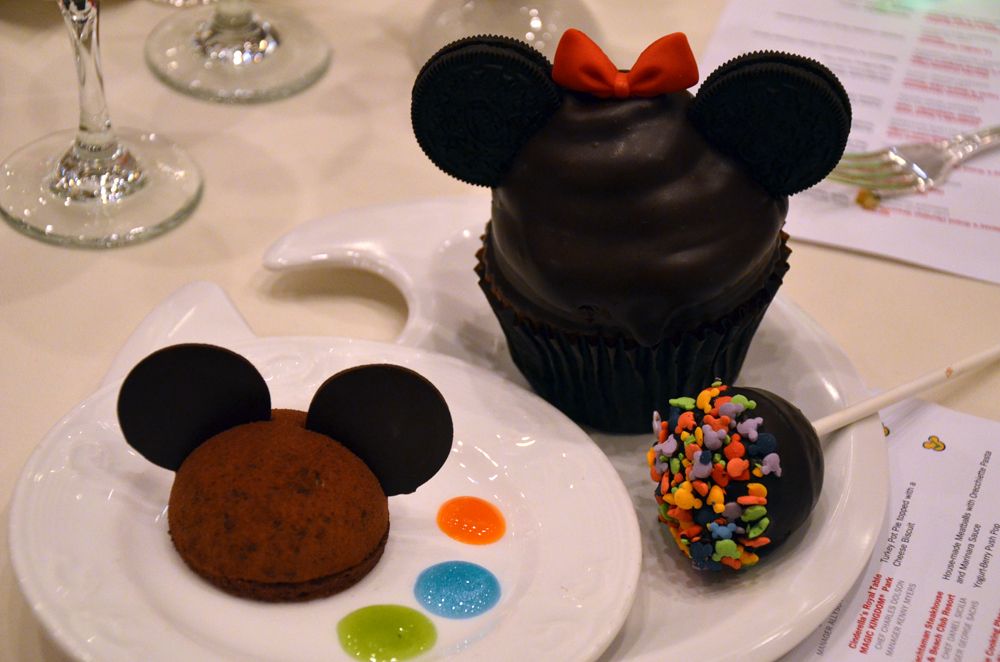 If you followed the #FBFOrl hashtag during the weekend, you saw that the dessert table was the most popular. Amid flashes and macro lenses, there were cupcakes in the form of Mike & Sully, cake pops studded with Mickey sprinkles and a "Paint-Your-Own-Nemo", accompanied by a Mickey Mouse-eared mousse… all created right before our eyes. Nothing better, right?
Saturday evening, we were treated to an exciting viewing of Fantasmic in a special area set aside just for us, complete with Disney-inspired desserts and drinks. Treats included Chocolate Risotto, Nitro Frozen S'morespheres, Mickey-shaped, chocolate-covered marshmallows, cookies and rice krispie snacks. We even had our very own bar, fitting for a small night cap before jetting off to ride Aerosmith's Rock & Roller Coaster!
One of the highlights of this trip was the lunch my mother-in-law and I enjoyed inside the Be Our Guest Restaurant in WDW's new Fantasyland. Once you place your order and receive your 'rose', you're free to choose a seat in the mysterious West Wing, Belle's book-filled Library or the grand two-story Ballroom. Five words: order the Carved Turkey Sandwich! Paired with fries, it was the perfect, filling meal to energize us for a walk through Magic Kingdom.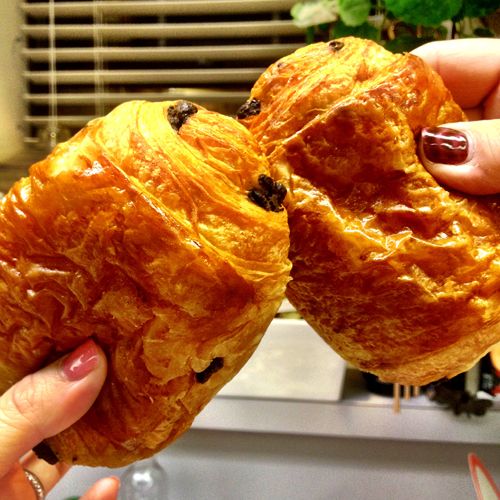 And since Momma G didn't get to tag along on this trip, I had to bring her something very special. Once I entered the new Les Halles Boulangerie & Patisserie (inside the France Pavilion at Epcot), I didn't have to take any time deciding on what to order (which is probably a good thing, as the lines move much faster here than you'd imagine). I knew right off the bat that I'd return home with two pain du chocolats. The minute I walked in the door, she and I toasted my return to Texas (after a big hug, of course) and all was well.
Many, many thanks go to our host, Walt Disney World, the Platinum sponsors, Florida Milk, KitchenAid and OXO, and the organizers, Jaden & Scott Hair of Steamy Kitchen, Todd & Diane of White On Rice Couple, Julie Deily of The Little Kitchen and Lindsay Landis of Love & Olive Oil. Without them, this conference wouldn't have been possible. It was truly a dream come true and I cannot wait to attend again!