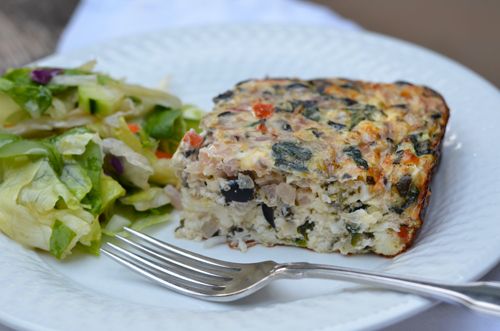 I'm sitting here in a rough state. Since returning home from Food Blog Forum, I've thrown caution to the wind. I've continued to eat as if I were still visiting with Mickey & Minnie, where calories consumed on property don't count. My 'Disney high' is still lingering and I'm clinging to it with a tight grip… I just don't want to let go.
And since eating whatever is in sight has become common behavior over the last week, I'd say I'm long overdue for a detox. With this Greek-Style Egg Bake, I get the best of both worlds – the indulgent, yummy side and the good-for-you, protein-packed one, too. It's filled with eggs, spinach, tomatoes, olives, onions, feta and spices. Satisfying and guilt-free, it's perfect for lazy day, weekend brunches.
As for that FBF recap I keep promising, it's coming. I've been too busy tasting all of the glorious treats we brought home in that gigantic swag bag! 😉
Ingredients
1 c red onion, chopped
1 c tomatoes, seeded and chopped
5 c spinach leaves, chopped
2-1/2 c fat-free liquid egg substitute or egg whites
3/4 c crumbled, reduced-fat feta cheese
1/2 c canned, sliced black olives, drained
2 tbsp fresh basil, chopped
1/2 tsp dried oregano
1/4 tsp black pepper
Instructions
Preheat oven to 375 degrees F. Spray an 8" X 8" baking pan with nonstick spray; set aside.
Bring a large skillet, sprayed with nonstick spray, to medium-high heat. Cook and stir onion until slightly softened, about 5 minutes. Add tomatoes and cook until softened, about 2 minutes. Transfer to a large bowl, and blot away excess moisture.
Add spinach to the skillet and cook until just wilted, about 2 minutes. Transfer to a strainer, and press with paper towels to remove as much liquid as possible. Transfer spinach to the large bowl. Let cool slightly, about 5 minutes.
Add all remaining ingredients to the bowl, and mix well. Transfer mixture to the prepared baking pan and bake for about 1 hour, until center is firm. Serve and enjoy!
Source: Weight Watchers
Notes
http://mybakingheart.com/2013/05/28/greek-style-egg-bake/