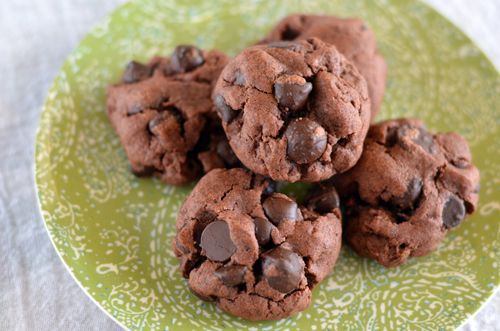 I missed National Chocolate Chip Day by two days, but couldn't let these slip by without sharing them with you all! They're a (very addicting) cookie I've had pinned for a long time and since I didn't have a few of the original ingredients on hand, I used what I had and put my own spin on them!
As you read this, I'm on my way to Florida and the Happiest Place on Earth to gather with fellow food bloggers and friends at Food Blog Forum '13. I can't begin to describe just how excited I am about this conference. All my loves are coming together this weekend: food, family, friends, blogging and Walt Disney World. I don't think I could have planned a more fun weekend! I'm quite the lucky girl, in that C completely understands my addiction to love for Disney. He and his parents agreed to enjoy an extra few days of magic after the conference ends on Sunday, so my "work trip" has turned into quite the needed vacation!
And to add to all the excitement, my little sister is tying the knot next week after we return! I'll be super busy carrying out my MOH duties (and plan to have a few posts scheduled!), but promise to keep you updated with a ton of tweets and photos while I'm on the road. Follow along with the #FBFOrl hashtag on Twitter and on Instagram for all the fun!
Now… on to this glorious recipe!
Chocolate-Chocolate Chip Pudding Cookies
Ingredients
16 tbsp unsalted butter, at room temperature
1 c granulated sugar
2 (1.4 oz) boxes instant sugar-free, fat-free chocolate pudding mix
2 lg eggs
1 tsp pure vanilla extract
2 c all-purpose flour
1 tsp baking soda
1/2 tsp Kosher salt
2 c dark chocolate chips
Instructions
Heat oven to 350 degrees F. Cream butter and sugar together. Add eggs, one at a time, and mix well. Add chocolate pudding mix and vanilla extract. Mix well.
Sift flour, baking soda and salt together. Add to cookie dough and mix until just combined. Scrape down sides of mixing bowl and mix again. Add chocolate chips and mix until combined.
Chill cookie dough in the refrigerator about 1 hour, or until dough is pretty firm. Scoop by tablespoon onto a parchment paper-lined baking sheet. Bake for 10 to 12 minutes, or until cookies look set. Cool on baking sheet for 2 minutes before transferring to a wire cooling rack.
Adapted from: Eclectic Recipes
http://mybakingheart.com/2013/05/17/chocolate-chocolate-chip-pudding-cookies/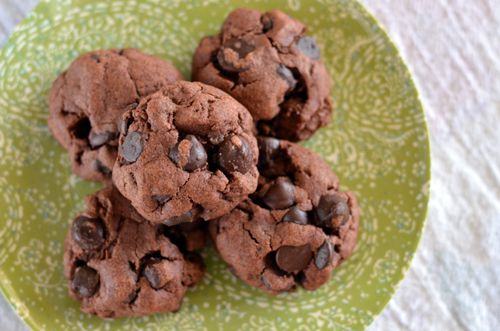 See ya real soon!