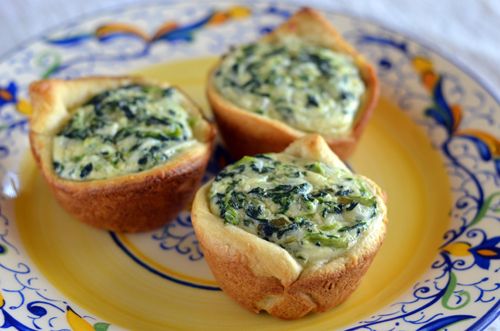 I'm so excited to share these little babies with you today. I've had them on my 'to-do' list for quite a while, but we've not been home long enough to barely breathe, let alone make a decent meal in the kitchen.
Fortunately, this past weekend we never left the house… except for the five trips to Lowe's and Home Depot for building supplies. See, we're renovating our patio, adding a new pergola and generally freshening up the yard. And since we didn't hire a crew, our list of "things needed" continued to change (and grow!). So, while C was out back helping our friend, Dane, I was in the kitchen baking up a nice little breakfast.
These Mini Spinach Quiches are easy to prep and quick to bake up, making them a perfect Saturday morning breakfast or brunch treat. They're filled with yummy veggies and protein-packed egg whites, giving you just the amount of energy you need to plant a flat of flowers or build a new pergola for those Summertime parties your husband is already planning in his mind. 🙂
Ingredients
2 (8 oz) cans refrigerated, low-fat crescent dinner rolls
1 (8 oz) carton Philadelphia Chive & Onion cream cheese, at room temperature
3 egg whites
1 sm onion, chopped
1 (9 oz) box frozen, chopped spinach, thawed & drained
1/4 tsp Kosher salt
1/4 tsp freshly ground pepper
1 c shredded mozzarella cheese
Instructions
Preheat oven to 350 degrees F. Spray 16 of the 24 muffin cups in two baking tins with non-stick spray. Separate each can of crescent dough into 8 triangles. Press 1 triangle on the bottom and up the sides of each muffin cup.
In a large bowl, beat cream cheese with an electric mixer on medium speed until smooth. Add egg whites, one at a time, beating well after each addition. Stir in chopped onion, spinach, salt and pepper until well mixed. Then, fold in cheese. Fill each cup to the top with egg mixture, making sure not to overfill.
Bake for 15 to 20 minutes, or until a knife inserted into the center comes out clean and the edges of the rolls are golden brown. Remove from pan to cool for a few minutes and serve warm.
Adapted from: Allrecipes.com
http://mybakingheart.com/2013/05/14/mini-spinach-quiches/