Happy National Salad Month! I know… it seems like every day you wake up, it's time to celebrate something else. However, I'm pretty keen on dedicating an entire month to the salad. Growing up, it was never really a favorite of mine, but since joining WW and turning my eating habits around, it's become one of my favorite dishes. There are so many ways to put one together, that it's never really a bore to eat!
This month's Live Sigma Kappa post features a yummy Blueberry Chicken Salad recipe I ran across in one of my dad's farming magazines. Strangely, we don't farm; however, we do own quite a bit of land and once raised Texas Longhorns. Maybe you can figure out how we get these publications in the mail… 🙂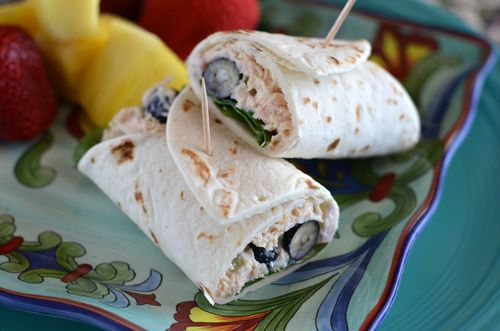 Blueberry Chicken Salad Wraps
Ingredients
6 tbsp plain Greek yogurt
2 tbsp mayonnaise
1/2 c finely chopped celery
1/2 tsp Kosher salt
4 c shredded, cooked chicken
1 c fresh blueberries
Fresh spinach leaves
12 flour tortillas
Instructions
In a large bowl, combine yogurt, mayonnaise, celery and salt. Stir in chicken until all is coated, then gently fold in blueberries. Top each tortilla with spinach leaves, then scoop about 3/4 of a cup of Blueberry Chicken Salad onto each tortilla. Roll each tortilla up, then cut in half. Secure with toothpicks, if desired, and serve.
Adapted from: The U.S. Highbush Blueberry Council
http://mybakingheart.com/2013/05/07/live-sigma-kappa-blueberry-chicken-salad-wraps/