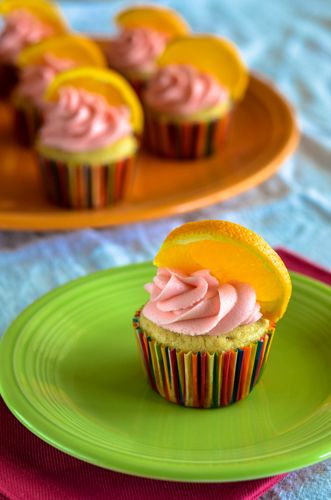 Today we fete sweet Krystal, of Mrs. Regueiro's Plate. She and her adorable family are awaiting baby #2… lovingly nicknamed 'Cupcake'. So, in honor of her little 'cupcake' (and Elena's new sibling!), we're celebrating with cupcakes of all different flavors at today's Virtual Shower!
I chose to bring a fruity & spicy Sangria Cupcake. With most of my friends and several family members having babies as of late, I know that most mommas crave an alcoholic treat once their new arrival is here. And since Krystal is a wine lover, I had a feeling that these would be the perfect cupcake to bake up. It's been entirely too long since we've seen each other, but I know that if we lived closer to one another, we would definitely enjoy frequent Girls' Nights, complete with yummy bottles of wine!
Many thanks go to Eva of Eva Bakes for her hard work in hosting this Virtual Shower. Click over to her blog to see a round-up of the other guests and the different cupcakes they all brought to the party!
Ingredients
For the Cupcakes:

2-1/2 c all-purpose flour
1 tsp ground cinnamon
2 tsp baking powder
1/4 tsp Kosher salt
12 tbsp unsalted butter, at room temperature
1-1/2 c granulated sugar
2 lg eggs
1 tbsp freshly grated orange zest
2 tsp pure vanilla extract
1-1/4 c skim milk

For the Sangria Buttercream Frosting:

1 3/4 sticks unsalted butter, at room temperature
6-8 c Confectioners' sugar
1 tsp pure vanilla extract
1/4 c skim milk
2 tbsp brandy
2 tbsp fruity, red wine
Dash red food coloring
Instructions
For the Cupcakes:
Preheat the oven to 375°. Line two cupcake pans with paper liners and set aside. In a medium bowl, sift together the flour, cinnamon, baking powder, and salt, then set aside.
In a large bowl using an electric mixer, beat the butter and the sugar until light and fluffy, about three minutes. Beat in the eggs one at a time, then beat in the orange zest and vanilla extract. Add one-third of the flour mixture and beat to combine. Add half of the milk and beat to combine. Add another third of the flour, then the remaining milk, then the rest of the flour, beating to combine after each addition.
Divide the batter between the liners, filling each about 2/3 of the way full. Bake for 18 to 20 minutes, or until the cupcakes are golden-brown and spring back when pressed lightly. Transfer to a wire rack to cool completely, then frost with Sangria Buttercream Frosting.
For the Sangria Buttercream Frosting:
In a large bowl, beat the butter with an electric mixer for 1 minute. Add 6 cups of confectioners' sugar, then the vanilla extract, milk, brandy, red wine and red food coloring. Beat on low speed until creamy. Gradually add the remaining Confectioners' sugar, a little at a time, until the frosting is thick and creamy. Frost cupcakes, then garnish each with half a wheel of thinly sliced orange.
Adapted from: Simple Vanilla Cupcakes by Cosmopolitan
http://mybakingheart.com/2013/05/06/sangria-cupcakes-for-krystal-her-little-cupcake/
Congrats, again, my lovely friend! I can't wait to see pictures of your new little one!