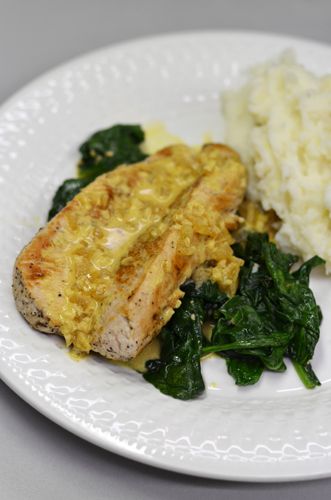 Turkey is traditional Thanksgiving fare, but when you're looking for a quick weeknight option during the rest of the year, it comes in quite handy. Especially when it tops a bed of fresh spinach and rests beside a big, fluffy scoop of mashed baby reds.
In the past few days, the weather in North Texas has oddly reverted back to winter… even though it's May. And since it was so chilly last night (we wrapped up in blankets and almost made a fire), it was a welcome treat to have a steaming hot plate of comfort food for dinner. Now, to pack up the jeans and dig out the shorts or grab a hoodie and throw on a scarf??
Turkey Cutlets with Mustard Cream Sauce
Ingredients
1-1/2 lb turkey breast cutlets
Kosher salt & freshly ground black pepper
1/4 c olive oil
1 lg shallot, finely chopped
1 tsp minced fresh garlic
3/4 c lower-sodium canned chicken broth
1/4 c heavy cream
1 tbsp grainy mustard
10 oz fresh spinach, washed and stemmed
2 tsp fresh lemon juice
Instructions
Season the turkey with salt and pepper. Heat 2 tablespoons of the olive oil in a large skillet over medium-high heat. When it's hot, brown the turkey (working in batches so the turkey is evenly spaced) until it's cooked through, about 1 to 2 minutes per side. Transfer the turkey to a wide plate and cover loosely with foil.
Reduce the heat to low and 1 tablespoon of olive oil. Add the shallot and sauté, stirring frequently, until it softens slightly, about 3 minutes. Add 1/2 teaspoon of the garlic and sauté, stirring, another 30 seconds. Increase the heat to high, add the broth and cook until it reduces by half, about 5 minutes. Add the cream and mustard and cook for another 1 to 2 minutes, whisking until thickened. Season with salt and pepper; set aside.
Heat the remaining 1 tablespoon of oil in another large skillet over medium-high heat. When it's hot, add the remaining 1/2 teaspoon of garlic. Sauté for 15 seconds, shaking the pan so the garlic doesn't burn. Add the spinach and cover the pan. Cook, stirring occasionally, until the spinach wilts completely, about 2 minutes. Toss with the lemon juice and remove from heat.
Serve immediately, placing some spinach in the middle of each plate, topped with a portion of the turkey and a spoonful of the mustard cream sauce.
Source: Fine Cooking
http://mybakingheart.com/2013/05/03/turkey-cutlets-with-mustard-cream-sauce/