I've wanted to make these muffins from the moment they were originally chosen, way back on November 6th, 2012. However, as we're all too familiar with, life got in the way and I forgot they'd even existed. So I was elated when TWD: Baking With Julia scheduled a 'rewind' for this week and I could choose whatever my heart desired.
These muffins are spicy, yet comforting, and lend a nod towards Autumn. They'd make a perfect treat for breakfast, brunch, an afternoon sweet or after-dinner dessert. I'm normally not a fan of the 'muffin top', but these are just too cute to ignore. 😉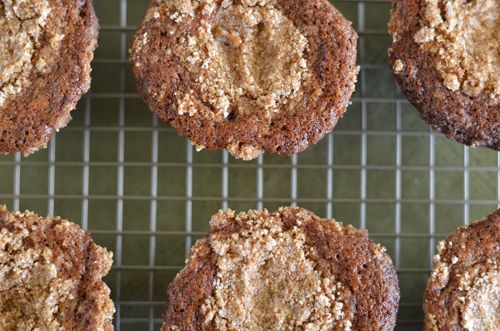 Thank you to Alisa of Easier Than Pie for originally hosting this choice. She has the recipe in full listed on her blog. Click over to the TWD:BWJ site to see a list of participating bloggers in this week's 'Leave-Your-Link' post, too. Can't wait to see what everyone else chose to 'rewind'!
Buttermilk Crumb Muffins (pg. 207)
Source: Baking with Julia by Dorie Greenspan