The square… it's the best thing since sliced bread! And no, I'm not talking about that little credit card reader that plugs into your phone and lets you accept payments on the spot (although it is pretty genius). I'm talking about these yummy Cinnamon-Raisin Oatmeal Squares. They're packed with healthy oatmeal, sweet cinnamon chips and plump raisins and it's the perfect after-school snack for the kids or a fulfilling late-night treat.
I saw the original cookie recipe staring at me from the back of a bag of Hershey's Cinnamon Chips, calling to me like a long-lost friend… and I knew right then and there that I was in for it. They were very easy to prepare, and the wait time was minimal. Which was good, because I can rarely resist a good cookie (evident from my 'about' photo).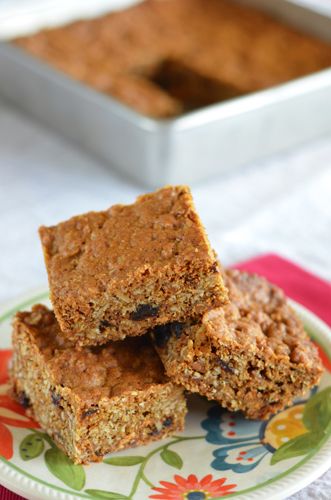 Cinnamon-Raisin Oatmeal Squares
Ingredients
8 tbsp unsalted butter, at room temperature
1/2 c packed light brown sugar
1 tbsp + 1 tsp Splenda for Baking
1 lg egg
3/4 tsp pure vanilla extract
3/4 c all-purpose flour
1/2 tsp baking soda
1-1/4 c quick-cooking oats
5 oz Hershey's Cinnamon Chips
1/4 c raisins
Instructions
Preheat oven to 350 degrees F. Spray and flour an 8" x 8" baking pan and set aside.
In a large bowl, beat butter, brown sugar and Splenda until creamy. Add egg and vanilla, then beat well. Combine flour and baking soda; add to butter mixture, beating well. Stir in oats, cinnamon chips and raisins (batter will be stiff).
Spread batter in prepared baking pan. Bake 25 to 30 minutes, or until golden brown. Cool in pan, then cut into squares.
Source: Hershey's Kitchens
http://mybakingheart.com/2013/04/23/cinnamon-raisin-oatmeal-squares/