Today is such a special day… one where we celebrate Ms. Nikki of Seeded at the Table and her upcoming arrival!
I have only incredibly sweet things to say about Nikki. Having met her during 2011's Foodbuzz Festival in San Francisco, I know first hand what a doll this woman is.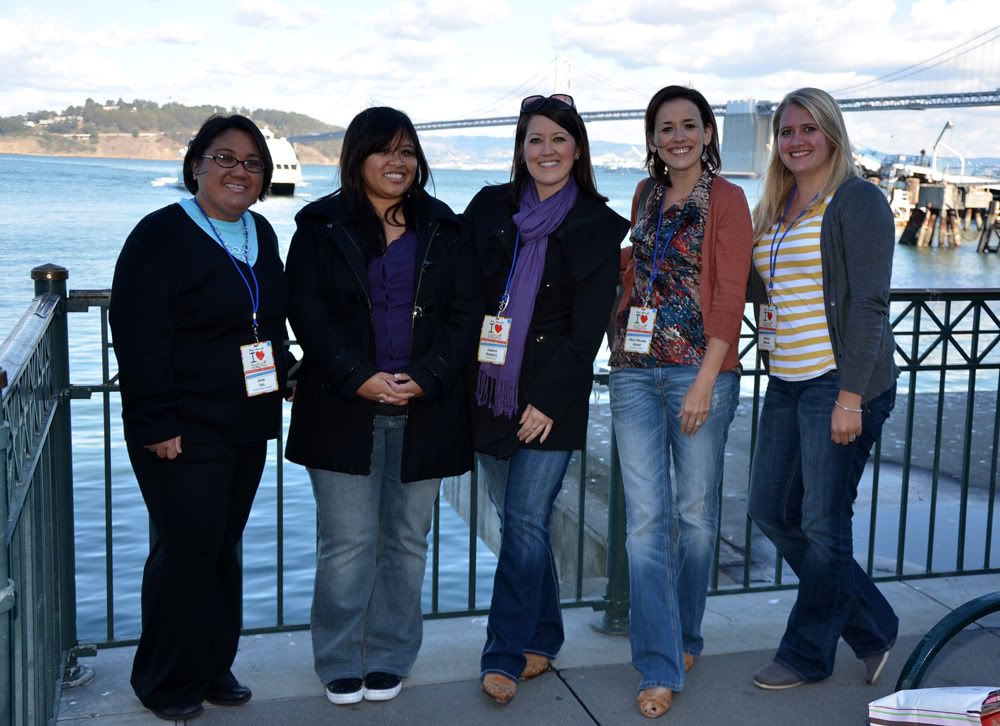 She's the super-cute gal standing to the right of me in the photo above. We had such a fun time that weekend and I can only imagine the amazing time we'll have when I see her this summer at BlogHer Food in Austin! I'll even get to see this precious new baby that's on his way!
Two of my other sweet friends, Kelsey at Apple A Day and Jessica of Sunny Side Up in San Diego (who's on the other side of Nikki above!), have worked super-hard at putting this virtual shower together. Click over to both of their blogs to see a round-up of the guests and the yummy dishes they've brought to the table… including the Cream Cheese Banana Nut Bread below. With a Southern-themed shower, banana bread is only fitting. The toasted pecans and rich cream cheese take this banana bread over the top. I only wish we were having this shower in real life… not just for the delicious food, but for the company of good friends!
Cream Cheese Banana Nut Bread
Ingredients
1-1/4 c chopped pecans, divided
1/4 c unsalted butter, at room temperature
1 (8 oz) pkg 1/3-less-fat cream cheese, at room temperature
1/2 c Splenda for Baking
2 lg eggs
1-1/2 c whole wheat flour
1-1/2 c all-purpose flour
1/2 tsp baking powder
1/2 tsp baking soda
1/2 tsp Kosher salt
1 c lowfat buttermilk
1-1/2 c mashed, very ripe bananas (about 4 medium)
1/2 tsp pure vanilla extract
Instructions
Preheat oven to 350 degrees F. Place 3/4 cup pecans in a single layer on a baking sheet, and bake 12 to 15 minutes or until toasted and fragrant, stirring after 6 minutes.
Beat butter and cream cheese at medium speed with an electric mixer until creamy. Gradually add sugar, beating until light and fluffy. Add eggs, 1 at a time, beating just until blended after each addition.
Combine whole wheat flour and next 4 ingredients; gradually add to butter mixture alternately with buttermilk, beginning and ending with flour mixture. Beat at low speed just until blended after each addition. Stir in bananas, 3/4 cup toasted pecans, and vanilla. Spoon batter into 2 greased and floured 8- x 4-inch loaf pans. Sprinkle with remaining 1/2 cup pecans.
Bake for 1 hour or until a long wooden pick inserted in center comes out clean and sides of bread pull away from pan, shielding with aluminum foil during last 15 minutes to prevent excessive browning, if necessary. Cool bread in pans on wire racks 10 minutes. Remove from pans to wire racks. Let cool 30 minutes.
Note: To make ahead, proceed with recipe as directed through Step 4. Cool loaves completely, and tightly wrap with plastic wrap. Wrap again with aluminum foil. Freeze up to 1 month.
Adapted from: Southern Living, February 2008
http://mybakingheart.com/2013/04/11/cream-cheese-banana-nut-bread-for-nikki-her-sweet-southern-boy/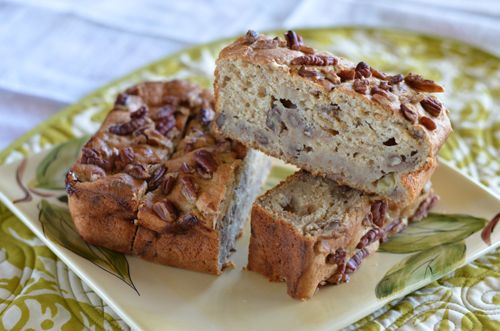 Congratulations to Nikki, Ben and Judah on such a happy occasion!