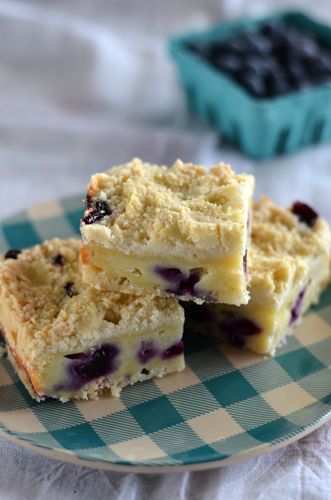 I knew the moment these popped up on my radar, I would be making a batch that day. And since an abundance of fresh blueberries have been showing up in my local markets lately, it seemed like kismet.
For the last month, I've been back on the ol' WW wagon with a strict mentality… one that I had in the very beginning almost two and a half years ago. No "bites", no "just try its", no "tiny samples" without logging points under my daily target. Things seem to be going well. I'm still trying to bust through this crazy (and annoying) plateau, but I'm not gaining anything back, so there's that.
And since I've been so good lately, I tricked these bars out with a little Splenda and Greek yogurt. Better for you and yummy all around. The crust and topping is crumbly, the filling almost cheesecake-like. Care to join me for a slice?
Ingredients
For the Crust & Topping:

1-1/2 c all-purpose flour
1/4 c + 2 tbsp Splenda for Baking
1/8 tsp Kosher salt
12 tbsp unsalted butter, chilled & cut into 1/2" cubes

For the Filling:

2 lg eggs
1/2 c Splenda for Baking
1/2 c plain Greek yogurt
1/2 tsp almond extract
1/2 c + 2 tbsp all-purpose flour
2 c fresh blueberries
Instructions
Preheat the oven to 350 degrees F. Grease an 8" x 8" baking pan and set aside.
To make the crust and topping, whisk together the flour, Splenda and salt in a medium bowl. Cut the chilled butter into the flour mixture until it resembles the shape of peas. Reserve 1-1/2 cups of the mixture to use as the topping. Press the remaining mixture into the bottom of the pan and set aside.
To make the filling, whisk the eggs in a large bowl, then add the Splenda, Greek yogurt, almond extract. Then, fold in the flour. Next, carefully fold in the blueberries, making sure not to break any of them. Spoon the mixture over the crust. Then sprinkle the remaining topping mixture over the filling and bake for 45 to 55 minutes, or until the top turns a golden brown.
Remove from oven and let cool for at least an hour before cutting into bars, or scoop out of the pan and serve cobbler-style.
Adapted from: Kirbie's Cravings
http://mybakingheart.com/2013/04/10/blueberry-pie-bars/