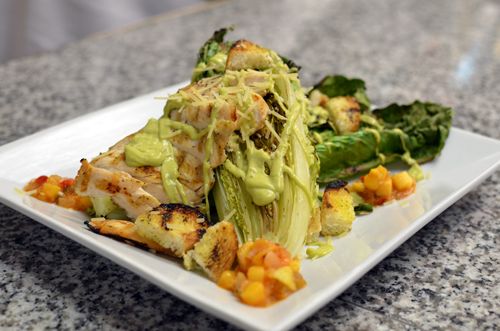 Congratulations to Heather of Hezzi-D's Books and Cooks! Her comment won her a guac & salsa prize pack from the amazing folks at Wholly Guacamole! A sincere 'thank you' to all who entered!
As much fun as I had with my friends at Wholly Guacamole the first go-round, I had even more fun this second time when we met up at Culinary Focus last month. Since I was invited back, I assume I was on my best behavior last year!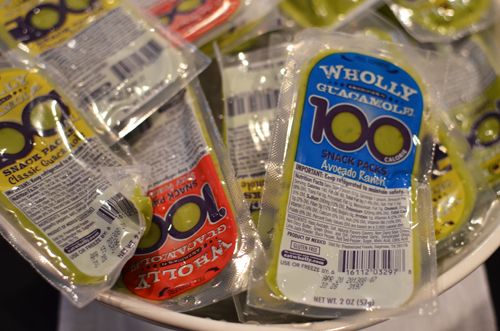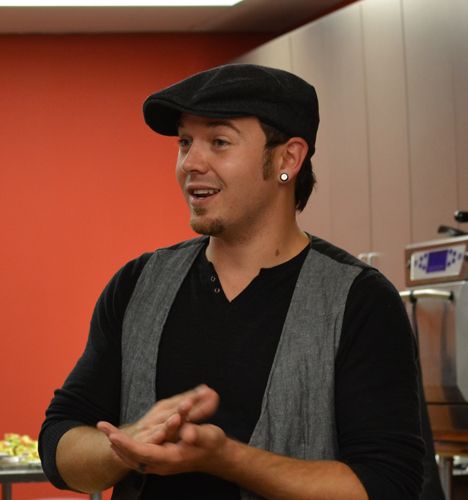 This time, we teamed up with Chef Nathan Lippy, host of "Grill This" on YouTube's Hungry Channel. The guy is super personable and has tons of fab recipes up his sleeve. Four amazing dishes were on the menu for the day: Grilled Chicken Nachos, Sliders with International Flair, Grilled Salmon with Mango/Pepper Salsa and Grilled Caesar Salad with Wholly Avocado Caesar Dressing.
After we paired up and prepped our areas, we got down to business… you know, photographing, Instagraming, tweeting and updating our Facebook pages, as we bloggers tend to do. 🙂 My group was tasked with making the Sliders, and once we hit the 'Update' buttons on our phones, things were cooking (literally). Two stovetops, one oven, six trays of burgers, buns & bacon and one smoky kitchen later, our Sliders were ready to be devoured.
I'm still dreaming of that Grilled Caesar Salad, so I've shared the recipe with you below. It was hard to choose between that and the Grilled Chicken Nachos, but you're in luck! You can watch Chef Nathan prepare the Nachos here on Hungry Channel! There are so many videos to choose from that you'll be watching them all day! And don't forget to follow @eatWholly and @HungryYouTube for all kinds of tasty recipes, new webisodes and specials on Wholly Guacamole & Salsa products!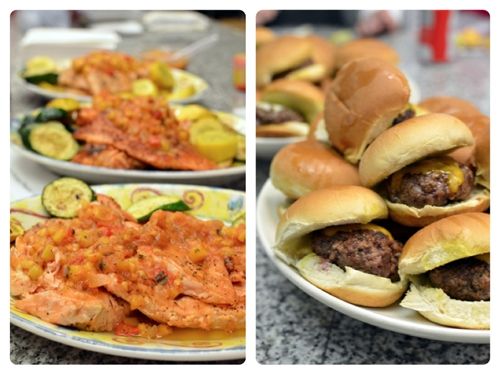 Grilled Caesar Salad with Wholly Avocado Caesar Dressing
Ingredients
For the Dressing:

1 ripe avocado, roughly chopped
1/2 md lemon, juiced
1/4 c extra virgin olive oil 
1/4 c shredded Parmesan, plus additional for garnish
2 tbsp Dijon mustard 
1 tbsp mayonnaise
2 tsp white wine vinegar
Kosher salt & black pepper, to taste

For the Salad:

2 (6 oz) boneless, skinless chicken breasts
3 tbsp extra virgin olive oil, divided
Kosher salt & black pepper, to taste
1/2 baguette, cut into 1-inch slices on the bias
1 tsp dried thyme leaves
2 sm heads romaine lettuce, cut in half lengthwise
Instructions
For the Dressing:
Combine all the ingredients in a blender and process until the dressing becomes smooth and emulsified, about 30 seconds. Season with salt and pepper. Reserve.
For the Salad:
Preheat a large grill pan over medium high heat. Drizzle both sides of the chicken breasts with 1 tablespoon olive oil and season with salt and pepper. Place the chicken on the grill and cook 5 to 6 minutes per side until well marked and cooked through. Remove to a cutting board, allow chicken to rest for 5 minutes, thinly slice chicken and reserve.
Drizzle 1 tablespoon of olive oil over both sides of the baguette slices and season with thyme leaves, salt and pepper. Grill bread on both sides until lightly charred. Remove from grill, roughly chop into bite-size pieces and set aside.
Drizzle 1 tablespoon olive oil over the romaine halves. Place the romaine cut side down on the hot grill and cook 1 minute or until charred. Serve the grilled romaine halves topped with sliced chicken, croutons, and Avocado Caesar dressing.
http://mybakingheart.com/2013/04/02/wholly-hungry-chefs-event-a-giveaway/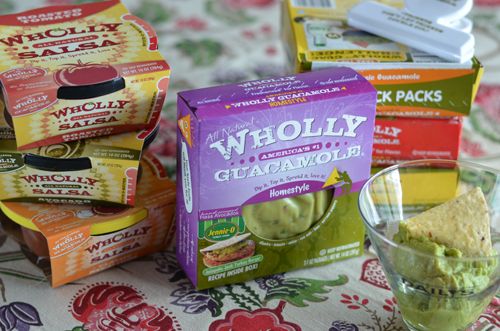 And finally, the giveaway! Want to win a cooler of guacamole and salsa just like the ones pictured above? The good folks at Wholly Guacamole will ship one lucky reader just that! Leave a comment below describing which of the four dishes above you'd like to try with your winnings and you're entered!
This giveaway is open from Friday, April 5th through Wednesday, April 10th at 11:59 p.m. CST. Open to U.S. residents only. Winner will be chosen randomly and contacted via email (be sure to include a valid email address with your comment!). If winner doesn't respond in 48 hours, a new winner will be chosen. Good luck!

Disclaimer: By participating in a product review and giveaway with Wholly Guacamole, I was compensated with free products. All photography & opinions are my own.