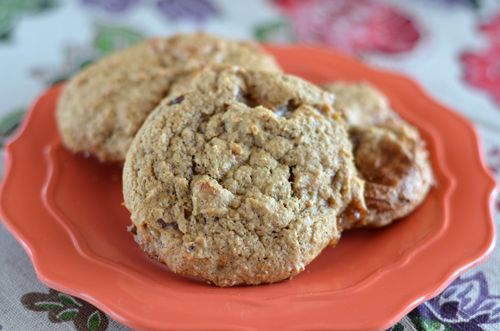 Can you believe that April has already arrived? The saying about all these showers bringing May flowers couldn't be any more true around here… it's either overcast and muggy or pouring down rain. So, to bring a little sunshine out, I baked up a batch of these Elvis Cookies for Live Sigma Kappa.
I had a few bananas that were super-ripe and instead of going the traditional route (read: banana bread), I wanted to do something a little different. These cookies are so yummy, almost like eating a warm fluffernutter sandwich with a big ol' glass of milk. Speaking of that… it's about time for lunch. 🙂
Ingredients
1 c all-purpose flour
1 c whole wheat flour
1 tsp baking soda
1/2 tsp Kosher salt
1/4 tsp ground cinnamon
4 tbsp unsalted butter, at room temperature
1/2 c dark brown sugar
1/3 c granulated sugar
1/3 c smooth peanut butter
1 tsp pure vanilla extract
1 lg egg
2 md ripe bananas, mashed
1-1/2 c mini marshmallows
Instructions
Preheat oven to 350 degrees F. Whisk together both flours, soda, salt and cinnamon, then set aside.
In a large bowl, cream together butter and sugars. Add peanut butter, vanilla and egg. Once smooth, add the banana and mix again. Slowly add in the dry mixture and then fold in the marshmallows. Drop dough (approximately 2 tablespoonfuls for each cookie) onto parchment paper-lined baking sheets, about 2 inches apart from one another, and bake for 12 to 15 minutes, or until golden and set. Remove from oven and let cool on a wire rack.
Adapted from: Awaiting Ada
http://mybakingheart.com/2013/04/02/live-sigma-kappa-elvis-cookies/