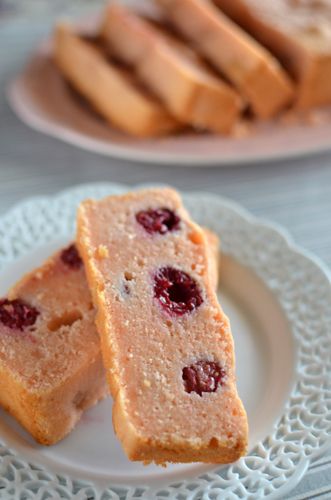 This week's FFwD recipe is one inspired by Monsieur Pierre Hermes. Pretty in pink… the first words that came to mind when I pulled this sweet little loaf out of the oven. Created with ingredients such as creamy butter, sifted almond meal and Confectioners' sugar, (among others), rose syrup and extract blend together to produce the hue, while fresh raspberries make it pop.
My loaf didn't turn out as high and fluffy as I'd hoped, but it was still a moist and tasty cake to snack on with a cup of dark-roasted coffee. The bake time is long (almost an hour), so you've got plenty of time to move about and get things done, say like two loads of laundry and a sink full of dishes. 😉
To see how the other Doristas fared this go-round, click over to the 'Leave-Your-Link' post on the FFwD site!
#132 – Ispahan Loaf Cake (pgs. 440-441)
Source: Around My French Table by Dorie Greenspan