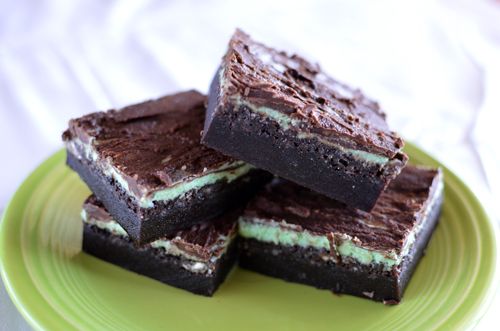 St. Patty's Day is only three days away, but I'm already feeling the green love. And since I'm back on the ol' Weight Watchers wagon, I'm all about finding those sweet treats that don't carry a huge point value on their backs.
I love these brownies for the sheer fact that they're so dense and chocolatey. They're so good, you'll be hard pressed to believe they're 'light'. Obviously, I've made these in the past and the comments below prove just how yummy these brownies are. So here's to a beautiful Irish Sunday… Sláinte!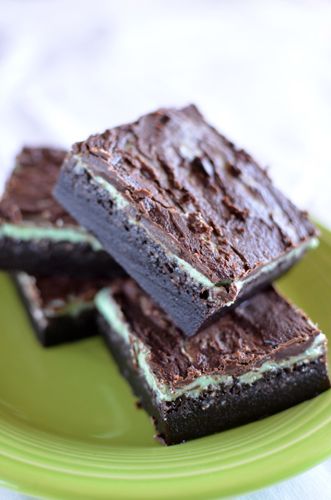 Ingredients
For the Brownies:

1 c all-purpose flour
1/2 tsp Kosher salt
1 c granulated sugar
1/2 c egg substitute
1/4 c unsalted butter, melted
2 tbsp water
1 tsp pure vanilla extract
2 lg eggs, beaten
1 (16 oz) can chocolate syrup

For the Mint layer:

2 c Confectioners' sugar
1/4 c unsalted butter, melted
2 tbsp skim milk
1/2 tsp peppermint extract
6 drops green food coloring

For the Glaze:

3/4 c semisweet chocolate chips
3 tbsp unsalted butter
Instructions
For the Brownies:
Preheat the oven to 350 degrees F. In a medium bowl, whisk together the flour and salt; set aside. In a separate medium bowl, combine sugar, egg substitute, melted butter, water, vanilla extract, whole eggs and chocolate syrup; stir until smooth. Add flour mixture to chocolate mixture, stirring until just blended. Pour batter into a 13" x 9" baking pan coated with cooking spray. Bake for 23 minutes or until a wooden pick inserted into the center comes out almost clean. Cool completely in pan on a wire rack.
For the Mint Layer:
Combine powdered sugar, melted butter, milk, peppermint extract and food coloring in a medium bowl; beat with a mixer until smooth. Spread mint mixture over cooled cake.
For the Glaze:
Combine the chocolate chips and butter in a medium microwave-safe bowl. Microwave at HIGH for 1 minute or until melted, stirring after 30 seconds. Let stand 2 minutes. Spread chocolate mixture evenly over top of brownies. Cover and refrigerate until ready to serve. Then cut into desired size, resulting in 15 to 20 brownies.
Source: Cooking Light
http://mybakingheart.com/2013/03/14/chocolate-mint-brownies/