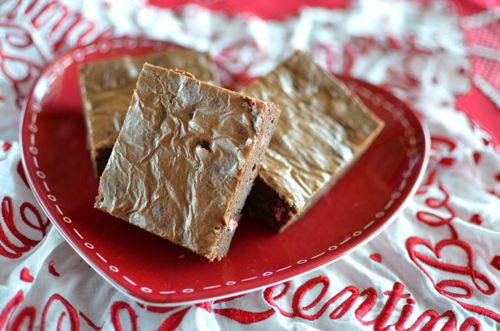 Valentine's Day has come and gone, but the 50%, 75% and even 90% sales have not! If you're anything like me, you love cruising the holiday sale aisles to find bargains on all kinds of baking goods: cupcake liners & toppers, colored sprinkles, fancy pans, etc. This year, I found these adorable dark chocolate & red colored Valentine chips by Nestle Toll House. I was so excited to find them and I immediately knew what to use them for.
As you know, C's favorite treat is a brownie, so when I asked him what he wanted for Valentine's Day, all he asked for were brownies. And since he's all over the map these days, they were a little late in their arrival. However, he enjoyed them tremendously and it looks like we've got another successful recipe to add to our brownie repertoire!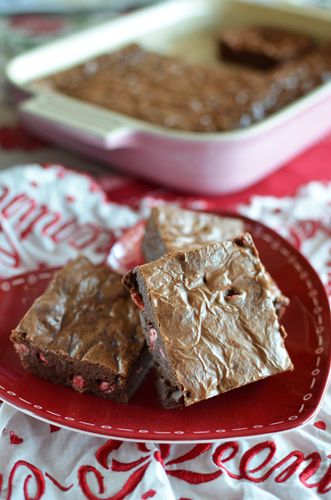 Ingredients
1 c dark chocolate chips
8 tbsp unsalted butter, cut into pieces
3 lg eggs
1 tsp pure vanilla extract
1-1/4 c all-purpose flour
1 c granulated sugar
1/4 tsp baking soda
1 c Nestle Toll House Valentine chips
Instructions
Preheat oven to 350 degrees F. Grease and flour a 13" x 9" baking pan; set aside.
Melt the dark chocolate chips and butter in a large, heavy-duty saucepan over low heat; stir until smooth. Remove from heat, then stir in eggs and vanilla extract, mixing well. Stir in the dry ingredients, until just incorporated. Gently fold in remaining Valentine chips. Spread mixture into prepared baking pan.
Bake for 18 to 22 minutes, or until a wooden pick inserted in center comes out slightly sticky. Cool completely in pan on a wire rack, then cut into 12 squares before serving.
Adapted from: Meals.com
http://mybakingheart.com/2013/02/21/double-chip-brownies/