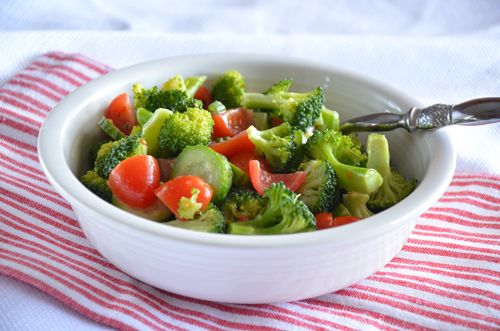 Good-for-you veggies, a recipe in ZipList form and updated with pretty pictures. You're welcome. 🙂
This is a year-round, go-to salad of my mom's. It's perfect for barbeques, get-togethers, pot-lucks, showers or even a weeknight dinner, when you're strapped for time. It's a salad I grew up on and one that I continue to make in my own kitchen.
Ingredients
For the salad:

1 lg broccoli crown, cut into small pieces
1 lg tomato, seeded and diced
4 green onions, sliced
1/2 md cucumber, peeled, seeded and cut into chunks

For the vinaigrette:

1/4 c olive oil
1/4 c white vinegar
2 pkgs Sweet-N-Low
2 tsp yellow mustard (Dijon or Stoneground will work, as well)
Salt & pepper, to taste
Instructions
Prepare vegetables and place in a large bowl. Whisk the vinaigrette ingredients together, then drizzle on top of the vegetables. Stir until all are coated, then cover the bowl and place in the refrigerator. Chill for at least an hour before serving.
Source: Momma G
Notes
http://mybakingheart.com/2013/02/11/tomato-broccoli-salad/