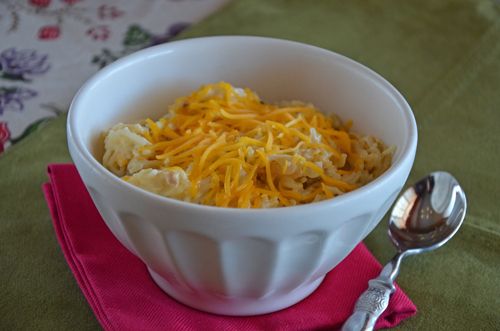 Continuing my quest to update popular posts with more appetizing photos, I give you Lila's Chicken. It's a warm & comforting pasta dish that I first posted back in July of 2008… and one that the whole family enjoys!
I love it when I get to spend a whole day with my little sister… just Rox and me, no one else. Today was such a day. After hitting our favorite grocery store, we went shopping in a new outdoor shopping haven. I visited Texas' first Vera Bradley store and picked up a copy of Vera Bradley – Cooking With Friends… a cookbook I've been eyeing for quite some time.
Of course, I had to open it up and read through it on the drive home. And as I scanned the pages, I came across Lila's Chicken (something I just knew Rox would love). As I read it aloud to her, she decided that we were making it for dinner. Filled with pasta, chicken, mushrooms and cheese, it's the perfect dish to warm you right up! Needless to say, it was very tasty and something I'd definitely make again. And the cookbook is one I definitely recommend for your library!
Ingredients
8 oz vermicelli
2 tbsp olive oil
1 lg onion, chopped
1-1/2 c sliced fresh mushrooms
1 (10 oz) can cream of chicken soup
1 (10 oz) can cream of mushroom soup
2 c chicken broth
4 boneless, skinless chicken breasts, cut into bite-size pieces
2 c low-fat sour cream
1-1/2 c shredded cheddar cheese, divided
Freshly ground black pepper, to taste
Instructions
Heat oven to 350 degrees F. Grease a 9" x 13" baking dish and set aside. Boil the vermicelli for 2 minutes, then drain.
Heat the olive oil in a large skillet. Add the onion and saute until translucent. Combine the sauteed onion, mushrooms, soups, chicken broth and uncooked chicken in a large bowl and mix well. Add the sour cream, 1 cup of cheddar cheese and the pepper. Stir in the slightly cooked pasta.
Spoon into the baking dish, then sprinkle with the remaining 1/2 cup of cheddar cheese. Bake for 1 hour, or until the chicken is cooked through. Let dish sit for 5 minutes before serving.
Adapted from: Vera Bradley - Cooking With Friends
http://mybakingheart.com/2013/02/04/lilas-chicken/