It's been almost three months since the wedding has passed. And after all the luxurious food we enjoyed on our honeymoon, I went a little crazy with my eating habits. I wouldn't stuff myself, but I also wasn't too concerned with my daily 'Weight Watchers' point count or exercising as much as I did pre-wedding. I know I'm not the only newlywed who's gone through this, but sometimes it feels that way!
So, within the last two weeks, I've jumped back on the wagon and have been super strict about counting my points & eating cleaner. Obviously, I've had the occasional sweet cravings and those pesky carbs will always have a hold on me. However, I've found that I can still indulge in the sweet stuff now and again… especially with these little Crunchy Biscoff-Butterscotch Chip Cookies. They're small, but they pack a nice punch that gratifies the Cookie Monster within! Anyone in the mood for a treat?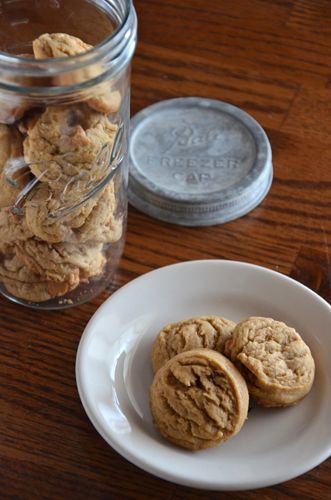 Crunchy Biscoff-Butterscotch Chip Cookies
Ingredients
3-1/2 c all-purpose flour
1 tsp baking soda
1/2 tsp Kosher salt
1 c unsalted butter, at room temperature
2/3 c Crunchy Biscoff Spread
1 c brown sugar
1 c granulated sugar
2 lg eggs
2 tsp pure vanilla extract
1 c butterscotch chips
Instructions
Preheat the oven to 350 degrees F. Whisk together the flour, baking soda and salt; set aside. Line two to three baking sheets with parchment paper and set aside.
Cream the butter and Crunchy Biscoff Spread together in a large bowl. Add in both sugars, then cream again. Add eggs and vanilla and mix well. Add in the flour mixture and mix until just incorporated. Stir in butterscotch chips until evenly distributed. Shape dough into 2-inch balls, with a cookie scoop or with your hands, then place about 2-inches apart on the prepared baking sheets. Bake for 8-10 minutes, or until golden brown and set. Cool for 5 minutes on sheets before removing to cooling racks.
Adapted from: Chef In Training
http://mybakingheart.com/2013/01/24/crunchy-biscoff-butterscotch-chip-cookies/