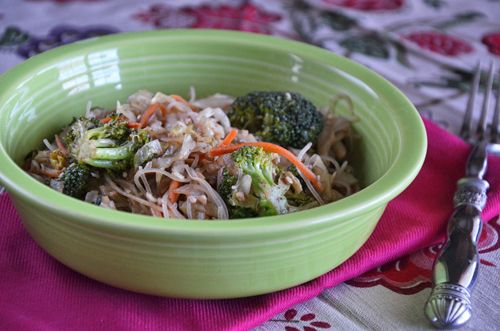 I've said it countless times before, but on this fifth anniversary of MBH's beginning, I'll say it again… I am so humbled by the hundreds of opportunities and special friendships that this little blog has afforded me. It really doesn't seem like five years have passed since I first hit the 'Publish' button. I've had so much fun and couldn't imagine where I'd be if I didn't have you, my sweet readers, to cook, bake, write & photograph for.
So, in honor of five years, I decided to cook up a big bowl of Chinese Five-Spice Noodles with Broccoli (see what I did there?). The dish is chock-full of crisp veggies, soft noodles and spicy flavor. Prep time is short – the noodles cook up in three minutes! – and the end result is just wonderful. Overall, it's a big bowl of comfort with a bit of kick at the end of each bite. Ready for some fireworks?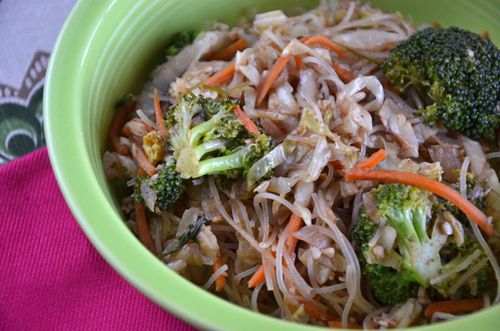 Chinese Five-Spice Noodles with Broccoli
Ingredients
8 oz rice noodles
2 tbsp low-sodium soy sauce
1 tbsp sesame oil
2 tsp Sriracha chili sauce
4 cloves fresh garlic, minced
1 tsp ground ginger, minced
2 tsp five-spice powder
1 tbsp vegetable oil
1 sm onion, chopped
3/4 c vegetable broth
1 lg bunch broccoli, stems removed and chopped
1 c shredded carrots
2 c shredded green cabbage
3 scallions, chopped
Instructions
Bring a large pot of water to a boil. Toss in the rice noodles and cook for about 3 minutes. Dump the pot into a colander, and rinse the noodles under cold water. Let drain in the colander. Mix together the soy sauce, sesame oil, chili paste, ginger and five-spice powder in a small bowl; set aside.
Place a large wok or saute pan over high heat. Pour in the oil, and then add the onion. Cook, stirring often until translucent, about 3 minutes. Toss in the garlic and cook for another minute. Then add the broccoli, carrots, cabbage, broth and soy sauce mixture. Cook for about 5 minutes, or until the broccoli is very tender. Toss in the scallions and rice noodles. Stir well, and cook until the noodles are coated in the sauce. Serve immediately.
Adapted from: Serious Eats
http://mybakingheart.com/2013/01/17/celebrating-five-years-of-my-baking-heart/
Thank you, friends! Here's to many more fabulous years of MBH!!