C's in the kitchen again with another winner! What was once a spur-of-the-moment recipe has become a weekly staple in our house… when he's home, that is.
His business travels seemed to be few & far between over the holidays (which was super nice), but lately, he's gone almost every night. Flying here & driving there is really wearing him down and you can only imagine how tired he is of road food. Endless airport kiosks, fast-food restaurants and greasy diners are no good, so we've tried extra hard to eat healthy and at home when he's here. This recipe definitely accomplishes that. Really easy, quick prep time and super tasty… sounds perfect in my book!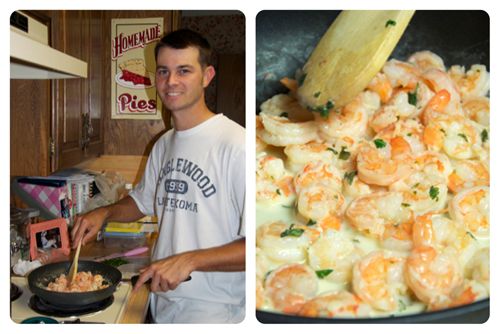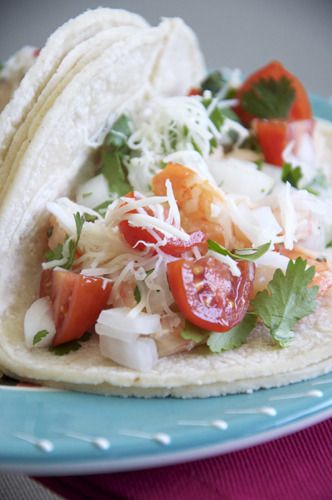 Cilantro-Lime Shrimp Tacos
Ingredients
1 lb medium shrimp, peeled and deveined
1/4 c low-fat sour cream
1 bunch fresh cilantro, chopped
3 tsp fresh lime juice
12 white corn tortillas
1 sm white onion, chopped
12 cherry tomatoes, sliced in half
Sargento Reduced Fat Shredded Mozzarella
Instructions
Heat a large skillet on the stovetop to medium-high. Add the shrimp, sour cream and a 1/4 cup of chopped cilantro, then toss to coat. Cook the shrimp until translucent, about 2 to 3 minutes on each side, and the sauce becomes creamy.
Warm tortillas, by wrapping in a damp paper towel and heating in a microwave for 20 seconds. Using two tortillas for each taco, divide the shrimp evenly onto the tortillas, then top with chopped onions, extra cilantro, cherry tomatoes and shredded mozzarella. Serve immediately.
http://mybakingheart.com/2013/01/15/cs-corner-cilantro-lime-shrimp-tacos/