After a week of dreary & rainy weather, the sun is shining bright, C is home from a week-long business trip and it's Friday! All perfectly wonderful reasons to celebrate in my opinion… and the following recipe? It's excellent for such an occasion.
When Momma G prepared these for an after-dinner dessert last Sunday, I knew I had to recreate them as soon as possible. They were warm, filling and immediately sent me spiraling towards Fall. I'm not a cold weather gal by any means, so these were a welcome treat on a 35-degree evening! They're super-quick to prepare, too. An added bonus? Blue Bell Homemade Vanilla on top!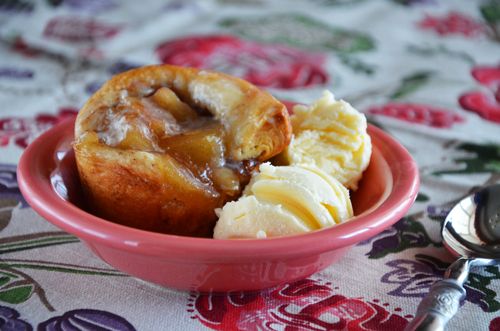 Mini Cinnamon-Roll Apple Pies
Ingredients
1 (12.4 oz) can Pillsbury® Reduced Fat Cinnamon Rolls with Icing
1 (21 oz) can apple pie filling
Blue Bell Homemade Vanilla ice cream, for serving
Instructions
Preheat the oven to 400°F. Take a muffin tin and lightly coat 8 of the cups with non-stick spray. Separate the cinnamon rolls, and flatten each one into a 4" round with a rolling pin. Press them into the muffin cups, molding to fit like a cupcake liner. Divide apple pie filling evenly among the 8 cups. Bake for 10 to 12 minutes, or until bubbly and slightly browned. Remove from oven and drizzle cinnamon roll icing over each. Let cool 5 to 10 minutes before removing from cups onto a cooling rack. Serve while warm, topped with vanilla ice cream.
http://mybakingheart.com/2013/01/11/mini-cinnamon-roll-apple-pies/