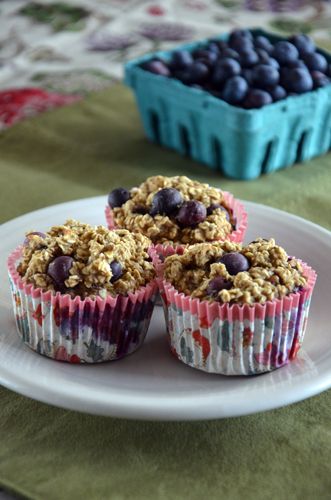 Gluten-free and good for you! Just the words you want to hear this time of year, right?
If you need a quick breakfast on your way to work, then this is it. These yummy muffins are incredibly easy to prepare and will save you precious time the next morning! I found a similar recipe buried in the chasm of Pinterest, but once I landed at the original site, there were no instructions and it seemed a little bland. Fast forward to last night, where I worked a little ingredient magic and whipped up these gems. They're warm, filling and have a sweet-tart burst of blueberry in each bite. Sounds like my kind of breakfast!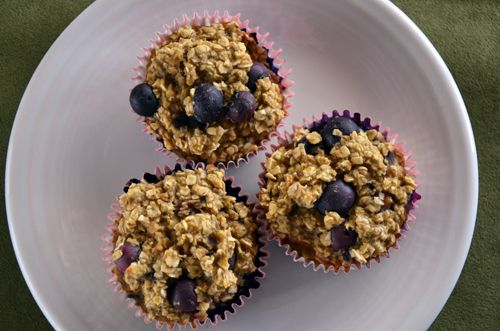 Gluten-Free Blueberry-Oatmeal Breakfast Muffins
Ingredients
1 tbsp Clabber Girl baking powder
2 tsp ground cinnamon
3 c oats
3 ripe bananas, mashed
1 c vanilla almond milk
2 lg eggs
1 tsp pure vanilla extract
1/3 c agave nectar
3/4 c fresh blueberries
Instructions
Preheat oven to 350 degrees. In a medium-sized bowl, whisk together the baking powder, cinnamon and oats, then set aside. In a larger bowl, mix together mashed bananas, vanilla almond milk, eggs, vanilla extract and agave nectar. Add the dry ingredients to the banana mixture until just moistened. Carefully fold in the blueberries, being careful not to crush them. Scoop mixture into paper-lined cupcake tins, filling each tin to the top. Bake for 18-20 minutes, or until muffins are golden brown and look set.
Notes
http://mybakingheart.com/2013/01/08/gluten-free-blueberry-oatmeal-breakfast-muffins/