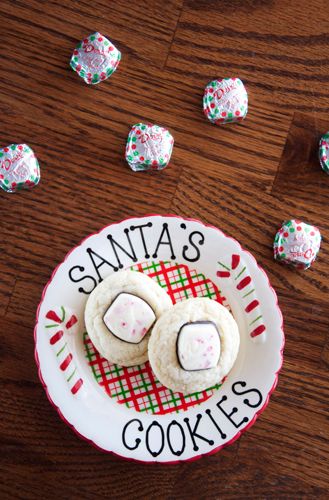 The final countdown is on: we're only five days away from Christmas and I'm still busy running from store to store to find last-minute gifts. Why do I always wait so long and stress myself out? Who knows, but I'm sure I'll be doing the very same thing at this time next year!
While I am gifting our families with things from their lists, I'm also wrapping up a few homemade goodies, too. I'd had these cookies in mind from the first time I saw Dove advertise their Peppermint Bark Chocolates in the sidebar of MBH. I love Peanut Butter Blossoms, so I knew that these would be a perfect spin on the popular Christmas-time treat.
They're simple to prepare and kids love to help out when it's time to place the chocolates on the top of the cookies. They're also pretty tasty… I may or may not have eaten a few last night. 🙂
Ingredients
24 Dove Peppermint Bark Dark Chocolates
8 tbsp unsalted butter, at room temperature
1 c granulated sugar
1 lg egg
1-1/2 tsp pure vanilla extract
2 c all-purpose flour
1/4 tsp baking soda
1/4 tsp Kosher salt
2 tbsp skim milk
Instructions
Heat oven to 350 degrees F. Remove wrappers from candies and set aside. In a large bowl, beat the butter and granulated sugar together until fluffy. Add egg and vanilla and mix until well blended. Whisk together flour, baking soda and salt in a separate bowl; then, add alternately with milk to butter mixture, beating until well blended.
Shape dough into 2-inch balls, then place about 2-inches apart on a parchment paper-lined baking sheet. Bake for 10 to 12 minutes or until edges are lightly browned and cookie is set. Remove from oven and cool for 2 to 3 minutes. Press a chocolate piece into the center of each cookie, then remove from cookie sheet to a wire rack to cool completely.
Adapted from: Hershey's
http://mybakingheart.com/2012/12/20/peppermint-bark-blossoms/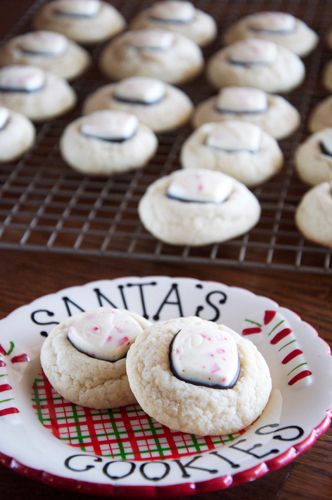 Beautifully decorated Christmas cookies make a wonderful and impressive gift that are almost too gorgeous to eat. These works of edible art can be mastered at home easily; all it takes is the right tools and a little bit of practice!