Remember when I said that I couldn't wait for the sign-up sheet to be passed around for 2012's Great Food Blogger Cookie Swap? Well, it finally landed on my desk and I'm almost certain I was one of the very first to add my name to the list.
All thanks to Lindsay from Love & Olive Oil & Julie from The Little Kitchen, 576 food bloggers participated this year and mailed over 20,000 cookies around the world. As a group, we even raised $2200 for Cookies for Kids' Cancer, and because OXO is matching the donation, that's $4400 raised! I am so proud to be a part of this year's swap and the Spiced Rum Cookies I've mailed out are some of the best I've ever tasted!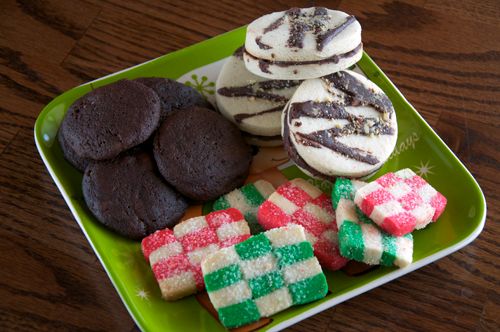 Thirty-six incredibly delicious cookies ended up in my mailbox: Double-Chocolate Merlot Cookies by Linda of The Urban Mrs., Shortbread Cookie Sandwiches with Caramel Ganache & Smoked Almonds by Amanda of High Heels to Hot Wheels and Holiday Checkerboard Cookies by Lisa of Authentic Suburban Gourmet. Sounds like sugar overload, right?!
Keep an eye out for the #fbcookieswap hashtag on Twitter (and Instagram, too!), where you can follow along with all sorts of yummy cookie posts!
Ingredients
3/4 c unsalted butter, at room temperature
1 c dark brown sugar
2 c all-purpose flour
Pinch of Kosher salt
1/2 tsp baking soda
1 tsp ground cinnamon
1/2 tsp ground coriander
1/2 tsp ground nutmeg
1/4 tsp ground cloves
2 tbsp dark rum
Instructions
Preheat the oven to 350 degrees F. Line two baking sheets with parchment paper or silicone baking mats.
Cream together the butter and sugar until light and fluffy. Whisk together the flour, salt, baking soda, cinnamon, coriander, nutmeg and cloves, then blend with the butter/sugar mixture until just incorporated. Add the dark rum and stir well.
Using 2 teaspoons, place small mounds of the dough onto the prepared baking sheets, about 2 inches apart from one another. Flatten each one slightly with the back of a spoon. Bake in the preheated oven for 10-12 minutes, or until golden. Let the cookies cool and become crisp on wire racks before serving.
http://mybakingheart.com/2012/12/12/the-great-food-blogger-cookie-swap-2012-spiced-rum-cookies/