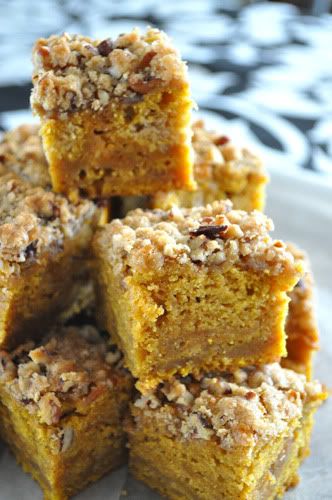 Please do me the honor of voting for my Streuseled Caramel Pumpkin Blondies… an incredibly yummy, but oft forgotten, recipe here on MBH. They're in the running to win the Herald-Democrat's 'Best Holiday Recipe' for 2012!
Last year I won with a submission of Cranberry-Pumpkin Spice Cupcakes with Orange Zest-Cream Cheese Frosting and I would love to continue my reign! So, if you're in the giving mood, I'd be most thankful for your vote!
Click here to cast your vote. Registration is required or you can log in with Facebook. I'm listed on the first page, on the right of the second column, third row down – just click on the link above, log in, leave a vote, click the gray 'Save Vote' button at the bottom and you're done! Voting ends December 19th and you can vote once a day per e-mail address registered. Thank you SO much!
Happy Thanksgiving to you and yours!