Another attempt in my never-ending quest to find the perfect brownie… today's TWD features Julia's 'Best Ever Brownie'.
While they didn't end up as our 'perfect' one, it's definitely a brownie to be reckoned with. The preparation is a little different in that the egg whites are whipped before being added to the batter, but oddly enough, this doesn't provide you with a cakey brownie. They left the oven super-fudgy, nicely dense and were the perfect sweet treat as we waited in line for Breaking Dawn, Part II… our final annual 'Midnight Movie' outing. 🙂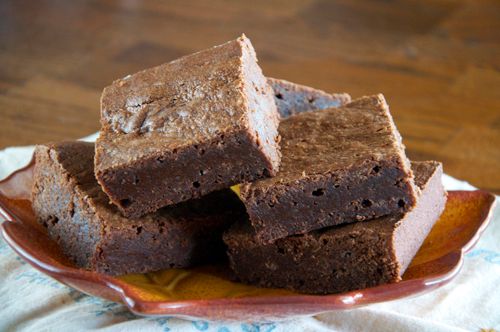 Our hostess for the week is Monica of A Beautiful Mess. Click on over to her blog to find the recipe in its entirety… and for a list of participants baking along, check out the 'Leave-Your-Link' post over on TWD: Baking With Julia!
Best Ever Brownies (pg. 331)
Source: Baking With Julia by Dorie Greenspan