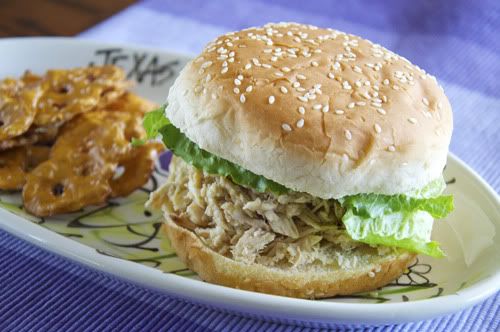 After ten (very quick) months of trying on dresses, picking out linens, tasting cake samples, updating RSVP lists, ordering favors, meeting with vendors, opening gifts, answering thousands of emails, fielding hundreds of phone calls and writing many a thank you note, the day has finally arrived. I'm getting married tomorrow… and I still can't believe it.
Before I become Mrs. C, though, I thought I'd post this fabulous tailgating recipe, which I served at last week's TCU game. These easy and delicious sandwiches went over like wildfire with all who joined our pre-kickoff party. We even had enough chicken left over for dinner. It's a simple, time-saving recipe that is sure to please any crowd… and I can't wait to make it again.
I'll see you soon sweet readers, but for now, it's time to rehearse!!
Chicken Caesar Salad Sandwiches
Ingredients
2 lbs boneless, skinless chicken breasts
1/2 c Caesar dressing
1/2 c Parmesan cheese, shredded
2 tsp dried parsley
1/2 tsp freshly ground pepper
2 c romaine lettuce, shredded
8-10 sesame seeded hamburger buns
Instructions
Place chicken in a 3 to 4 quart slow cooker. Cover chicken with 1 to 2 cups of water and cook on low heat for 4 to 6 hours.
Using a slotted spoon, remove chicken from slow cooker to a cutting board, then drain the water. Shred chicken, discarding any fat, then place back into the slow cooker. Add dressing, Parmesan cheese, parsley and pepper over the top and stir until evenly mixed. Cover and cook on high heat for 30 minutes or until mixture is hot.
Spoon 1/4 cup of chicken onto each bun. If desired, top with extra Parmesan, dressing and lettuce to serve.
http://mybakingheart.com/2012/10/26/chicken-caesar-salad-sandwiches/