Happy October and National Fair Trade Month! Did you know that for more than a decade, Green Mountain Coffee® has been a leader in the fair trade movement, providing a better cup of coffee to consumers and a better quality of life for coffee farmers? Fair Trade means coffee farmers get a fair price for the beans they grow, which provides them the necessary funds to further invest in crops, their communities, and their futures.
To help spread the word about Fair Trade, Green Mountain Coffee and acclaimed musicians Grace Potter and Michael Franti are celebrating in a big way with "Great Coffee, Good Vibes, Pass It On" – an awareness campaign that celebrates the good vibes of fair trade through free concerts and an opportunity to win a trip to the source.
As part of the campaign, Grace and Michael were invited to Colombia and Sumatra respectively, to get a first-hand look at how Fair Trade makes a difference in the lives of coffee farmers – and in the coffee you're drinking. To see the positive effects Fair Trade has on these farmers and their communities, click over to YouTube to enjoy the videos Michael and Grace filmed on their respective trips down South.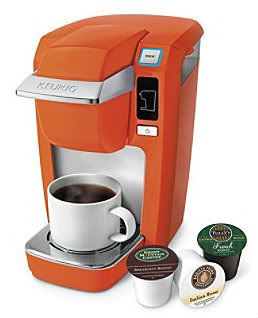 As for a Fair Trade celebration, I'm giving away a new, bright orange Keurig® Mini Plus Brewing System and a box of Fair Trade Certified™ Pumpkin Spice K-Cup Packs (just in time for Halloween!)! It's one of my favorite flavors, as you know, so I'm super excited to gift this to one lucky MBH reader! To enter, just leave a comment below listing your favorite Fair Trade Certified™ Green Mountain Coffee variety by October 19th at midnight CST. Easy peasy!
As if a brewer wasn't fun enough, visit Green Mountain Coffee's Facebook page, where you can enter to win a trip to Costa Rica, one of the many locations where Green Mountain Coffee Fair Trade Certified™ coffee is grown!
And finally, are you just itching for a box of Fair Trade Certified coffee and can't wait another minute? Then plug in this month's promotional code – GMCFTC8167 – on Green Mountain Coffee's website for an additional 10% off all Fair Trade Certified products! These K-Cup packs are already on sale, however this promo code offers extra savings on top! Offer valid until November 5th.
Good luck and Happy National Fair Trade Month!

Disclosure: I am participating in a twelve-month campaign with Green Mountain Coffee Roasters and am being compensated with a brewer and product samples. All photography & opinions are my own.