The title of this recipe is entirely spot on… and so correct, it's quite grand.
I almost didn't have a chance to make this beautiful tart, though. With only two weeks to go until the big day, I'm grasping on to any spare seconds that I can find. And while this recipe is fairly easy, it's time consuming in the least. Eight paper-thin layers of phyllo dough are stacked together with melted butter and a fine sprinkle of sugar, then topped with dollops of custardy almond cream and thin slices of tart apples. Crispy, crackly, crunchy and sweet: there's no better way to describe this heavenly treat.
As for the slightly burned edges… I attribute that to those seconds that seem to slip through my fingers. Just another reminder to keep my eyes on the oven and forget multi-tasking! 🙂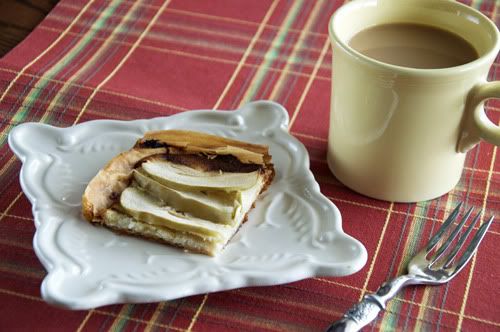 Click over to today's FFWD 'Leave-Your-Link' post for a round-up of my fellow bakers!
#109 -Crispy, Crackly Apple-Almond Tart (pgs. 458-459)
Source: Around My French Table by Dorie Greenspan