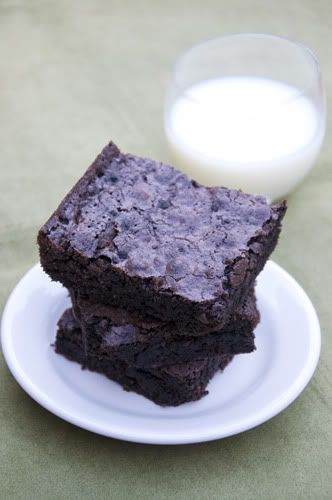 When I started this blog almost five years ago, I was a poor sight. My point & shoot was a constant companion, but natural light… we had not been formally introduced. One of the first desserts I posted were these brownies by Hershey's. I know you've seen the recipe – the one that appears on the back of their cocoa powder box? The pictures weren't just bad, they were lousy; however, they were some of the best brownies I'd ever eaten (no pun intended) and I was proud of them.
So, last week, while I was away on a business trip, I left a pan of these on the kitchen counter for C. He fended for himself when it came to dinner, but handing him a whisk and a sweet recipe would've been plain cruel. And seeing that there were only 2 or 3 of them left when I arrived home, I know they were appreciated.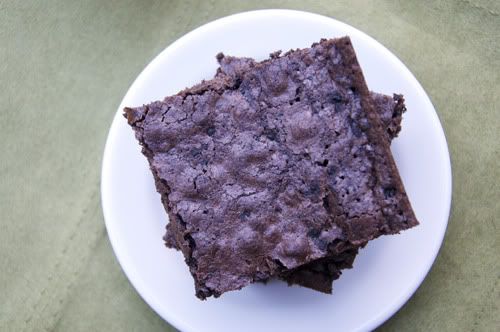 Ingredients
1 c unsalted butter
2 c granulate sugar
2 tsp pure vanilla extract
4 lg eggs
3/4 c Hershey's Special Dark Cocoa
1 c all-purpose flour
1/2 tsp baking powder
1/4 tsp Kosher salt
1 c chopped pecans, optional
Instructions
Heat oven to 350 degrees F. Grease a 13"x9" baking pan. In a medium, microwave-safe bowl, melt butter in the microwave on medium for 2 to 2-1/2 minutes or until fully-melted. Stir in sugar and vanilla. Add eggs, one at a time, beating well with a wooden spoon after each addition. Add cocoa; beat until well blended. Add flour, baking powder and salt; blend well. Stir in nuts, if desired. Pour batter into prepared pan. Bake for 30 to 35 minutes or until the brownies begin to pull away from the pan. Cool completely, then cut into bars.
Adapted from: The Hershey Company
http://mybakingheart.com/2012/10/10/hersheys-best-brownies/