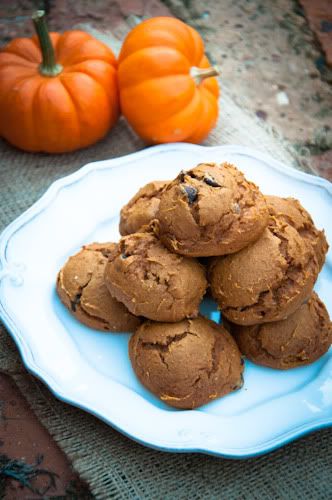 I warned you about my love for pumpkin. Did you listen?
We're on our annual, week-long business trip to Pittsburgh. The drive is long and the days can get a bit boring, so to perk things up a bit, I baked two batches of these for special treats throughout the week. Besides the fact that they're bursting with Fall flavors & spices and they're actually good for you, it's a one-bowl, three-ingredient recipe! It doesn't get any easier than this, friends!
Chocolate Chip-Pumpkin Cookies
Ingredients
1 (18.25 oz) pkg spice cake mix
1 (15 oz) can pumpkin puree
1/2 c dark chocolate chips
Instructions
Preheat oven to 350 degrees F. Line cookie sheets with parchment paper and set aside. In a large bowl, whisk the cake mix to remove any lumps. Then, add the pumpkin and stir together until well blended. Next, fold in the chocolate chips. Drop by rounded spoonfuls onto the prepared cookie sheet.
Bake for 18 to 20 minutes in the preheated oven. Allow cookies to cool on baking sheet for 5 minutes before removing to a wire rack to cool completely.
http://mybakingheart.com/2012/10/05/chocolate-chip-pumpkin-cookies/