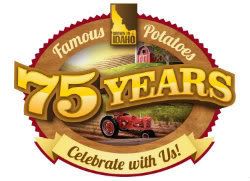 I just returned from four glorious days in the Gem State. Along with ten fellow food bloggers, I explored the produce fields of southeast Idaho.
Because of the generous hosts from the Idaho Potato Commission, I met with third and fourth-generation farmers, photographed harvesters, watched potatoes being sorted, tasted numerous dishes filled with tasty taters and even dug up a few spuds myself.
I'm always one for continued learning, so any time that I can file away a new fact or two, I jump at the chance. And with this extra-special press trip, I filed away hundreds!
Idaho continues to remain the leading state when it comes to growing potatoes, with close to 345,000 acres planted for this fall's harvest. Rich volcanic soils, ample irrigation water, and progressive farmers using the latest available technology are all components working together perfectly to ensure this year after year.
If you're wondering about the corn field shown in the photo above, you have good reason. I was in Idaho for potatoes, right? Well, the 'Grown in Idaho' logo was cut into this corn maze to celebrate their 75th Anniversary!
While visiting with the humble Hoffs, we were treated to a delicious dinner featuring four special potato salads… all laid out in a hangar filled with their collection of vintage airplanes. It's a family affair, with son James heading things up as the farm's fourth-generation lead farmer. And their production numbers are nothing to sneeze at… even as a smaller farm, they can produce enough potatoes and wheat to feed 100,000+ people a year.
Idaho farmers begin planting potatoes in mid April. Crops are harvested in late September and continue into October. Once the potatoes have been gathered, farmers will store the crop in large potato cellars that maintain over 95 percent humidity at around 42 degrees Fahrenheit. Storing them this way will keep them as fresh as possible for up to an entire year… before they're packaged and shipped right to the consumer. Crazy, right?
It was fascinating to watch these spuds arrive at their packing facilities. After being washed, scrubbed, x-rayed and sorted, they rode to their final destination where they were bagged and boxed before finally being loaded onto a semi. Next stop… the grocery store!
Our final day was spent with the good people at Potandon, lead producers for the Green Giant Fresh and Klondike brands. A culinary demo followed, where we sampled everything under the sun… all involving potatoes, of course! We also trekked to one of their many fields where we dug up a few specialty varieties, including the Klondike Rose, one of Green Giant's most popular potatoes.
And after a horseback trail ride and a fabulous dinner at Linn Canyon Ranch, we ended our trip with a stay at the beautiful Teton Springs Lodge & Spa in Victor. Absolutely gorgeous scenery, incredible food, down-to-earth people and new blogger friends… all in all, a trip I'll never forget.
Many thanks to the candid farmers and our delightful hosts at the Idaho Potato Commission, especially Don, Inez and Sue!