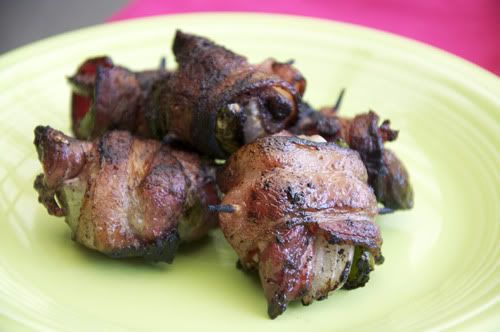 While I'm busy diggin' up spuds and touring plants this week for the Idaho Potato Harvest, my lovely fiancé has another recipe up his sleeve for all you wild game-lovers out there.
It's a fab appetizer to serve during football-watching parties, game nights or even when the guys are just chilling in the 'man cave'. The dove breasts are tender, the bacon crisp and the jalapeño/onion combo kicks things up a bit. It never hurts to have a hot guy in the kitchen cooking for you, either… 🙂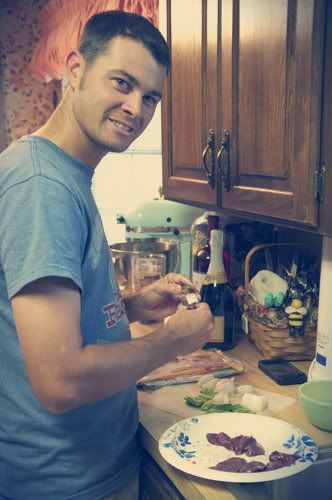 Bacon-Wrapped, Jalapeño-Stuffed Dove Breasts
Ingredients
20 dove breasts, breastbones removed
1/2 lb bacon, uncooked
5-6 jalapeños, sliced and seeded
1 sm onion, sliced into wedges
Toothpicks
Instructions
Preheat grill to medium heat. Place toothpicks in a shallow bowl of water to soak; while waiting, cut each bacon slice in half. Clean dove breasts well under cold running water. Make sure to remove any missed shot, then dry in a colander.
Stuff the center of each dove breast with a slice of jalapeño and a slice of onion. Next, wrap a slice of bacon around the dove breast, then secure the bacon with a toothpick, sticking it all the way through the breast.
When ready, grill dove breasts over indirect heat for about 20 minutes. Then, turning the heat up, move the dove breasts to direct heat for another 5 minutes, or until the breast meat is brown and the bacon is crispy. Transfer dove breasts to a dish and serve warm.
http://mybakingheart.com/2012/09/26/cs-corner-bacon-wrapped-jalapeno-stuffed-dove-breasts/