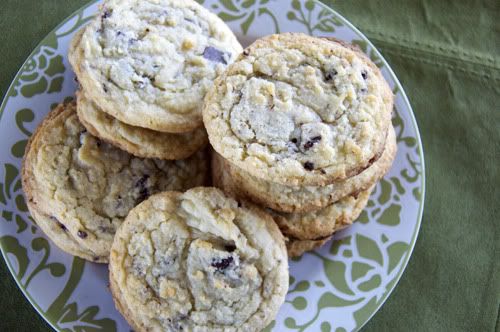 Obviously, the title is a little misleading. Thick chocolate chip cookies, these are not. But, in an effort to find the 'best-ever' chocolate chip cookie (just like my quest to find the perfect brownie), I gave these a try.
The cookie is perfectly good, with the chocolate chunks lending a nice pop of dark chocolate. The overnight refrigeration is great, as well… helping the cookies to not spread as much during the baking process. However, they didn't end up thick or even chewy, so the 'best-ever' title is not one I'd bestow upon this recipe.
Not the 'best-ever,' but good enough to treat my fellow tailgaters to tomorrow morning! 🙂
Best-Ever Thick & Chewy Chocolate Chip Cookies
Ingredients
2-1/2 c unbleached all-purpose flour
1 tsp baking soda
1 tsp Kosher salt
16 tbsp European-style unsalted butter, at room temperature
1-3/4 c granulated sugar
2 eggs
1 tsp pure vanilla extract
2 c dark chocolate chunks
Instructions
In a small mixing bowl, whisk together flour, baking soda, and salt until well combined.
In a stand mixer, using the paddle attachment, cream the butter with the sugar on medium speed until light and fluffy, about 3-5 minutes. Add the eggs one at a time, mixing between additions and scraping down the bowl as needed. Add the vanilla extract and mix. On low speed or by hand, stir in the dry ingredients until just combined. Stir in the chocolate chips, mixing until just incorporated. Do not over-mix. Scrape down the bowl as needed.
Using a cookie scoop, ice cream scoop, or two spoons, form dough balls and place on parchment paper-lined cookie sheets with a few inches of room in between. Refrigerate overnight.
Preheat the oven to 375 F with rack in the center. Bake for 10-13 minutes (depending on the size of your dough balls), until they are golden brown around the edges and puffy in the center. Let cookies cool a few minutes on baking sheets before transferring to wire racks to cool completely.
Adapted from: Baking at Home with the Culinary Institute of America
http://mybakingheart.com/2012/09/21/best-ever-thick-chewy-chocolate-chip-cookies/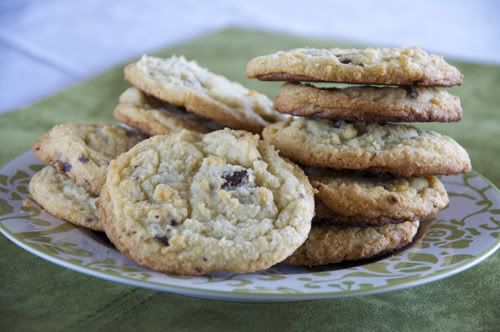 GO Frogs!