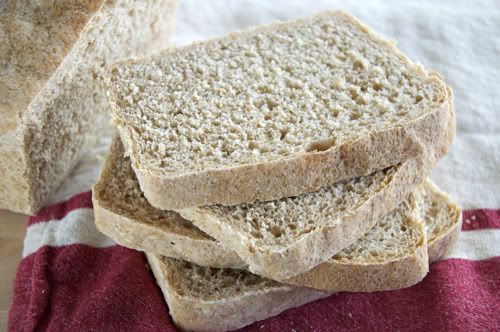 Homemade bread. One of life's glorious little pleasures (that while I try not to indulge in too often), I absolutely adore. And this 'Whole Wheat Bread' by contributing baker Craig Kominiak, is one and of the same.
It's a timely process, but the end result is golden and rich. I think my loaves were a little light in color because of the omission of malt extract (which is absolutely impossible to find here). However, the taste is sheer perfection… not only my thoughts, but my next-door neighbor's, as well.
Michele of Veggie Num Nums and Teresa of The Family That Bakes Together are our hostesses for the week. The entire recipe can be found on either of their blogs, along with some sweet photos, too. And for a list of participating bakers, click over to the 'Leave-Your-Link' post on Tuesdays With Dorie!
Whole Wheat Bread
Source: Baking With Julia by Dorie Greenspan