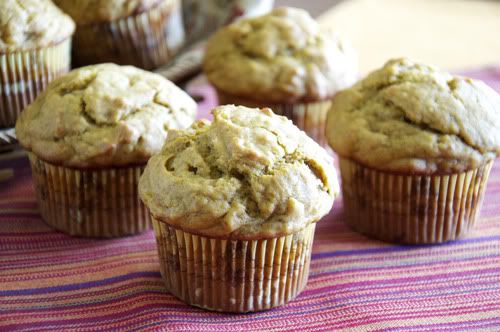 Are you as ready for Fall as I am? This summer's heat has been so unbearable, it's not funny. Fortunately for North Texas, we had a nice taste of Autumn roll through this past weekend, with highs in the mid-70s. The breeze was a cool one and the bright blue sky was clear and gorgeous. A perfect morning to sit out on the patio with a hot cup of coffee and one of these spicy muffins!
They're moist, delicious and combine all kinds of things I love about Fall baking… creamy pumpkin puree, warm spices and ripe bananas. The bake time is super-short and the prep time even shorter! Wonderful, right?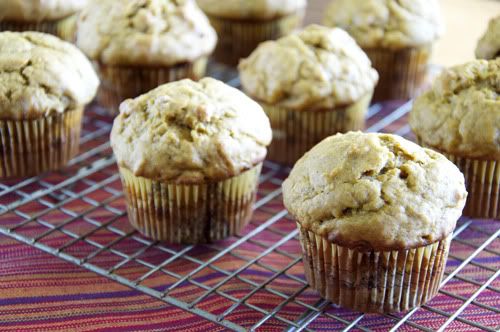 Pumpkin Spice-Banana Bread Muffins
Ingredients
2 mashed bananas (ripe)
2 lg eggs
1/3 c vegetable oil
1-1/3 c pumpkin puree (canned)
1/2 c honey
1/2 c granulated sugar
2-1/2 c all-purpose flour
1 tsp baking powder
1 tsp baking soda
1/2 tsp Kosher salt
2 tsp pumpkin pie spice
1 tsp ground cinnamon
3/4 c raisins (optional)
1/2 c chopped walnuts (optional)
Instructions
Preheat oven to 350 degrees F. Grease an 9x5 inch loaf pan or line a 12-cup muffin pan with liners. In a large bowl, stir together the mashed banana, eggs, oil, pumpkin, honey and sugar.
Whisk together the flour, baking powder, baking soda, salt, pie spice and cinnamon, then stir into the banana mixture until just combined. Fold in the raisins and walnuts if desired. Pour batter into the prepared pan or evenly distribute between the muffin cups.
Bake the loaf for 45 minutes (or the muffins for 20-25 minutes), until a toothpick inserted into the center of the loaf (or muffins) comes out clean. Cool loaf or muffins in the pan for 10 minutes before moving to a wire rack to cool completely.
Adapted from: Allrecipes.com
http://mybakingheart.com/2012/09/10/pumpkin-spice-banana-bread-muffins/