Recently, I opened up an email from the good folks at Glory Foods, a company offering 'Southern Food with a Soulful Heritage'. Their request was a simple one: to test and review a few of their products, as they're the category leader in the Southern-style, heat-and-serve type. Their ready-to-eat and fresh product line ranges from canned beans, sweet potatoes and cornbread mixes to cooking bases, hot sauces & fresh, crisp greens.
It's convenient, but good-for-you at the same time… and super reassuring that what you're feeding your family is locally-sourced and picked at it's prime! So, it was fate that this gorgeous basket landed on my doorstep, as I was just about to bake up a pan full of Chicken Tamale Casserole. And since two of the required ingredients were just waiting for me in that basket, I got to work.
This dish is a crowd-pleaser, for sure. The result is perfectly spicy and most-definitely filling… and there's enough to feed an army. Serve with tortilla chips and a bowl full of chunky guacamole and you're all set!
Ingredients
1 c 4-cheese Mexican blend cheese, shredded and divided
1/3 c skim milk
1/4 c egg substitute
1 tsp ground cumin
1/8 tsp ground red pepper
1 (14-3/4 oz) can Glory Foods Cream-Style Skillet Corn
1 (8-1/2 oz) box Glory Foods Cornbread mix
1 (4 oz) can chopped green chiles, drained
Cooking spray
1 (10 oz) can red enchilada sauce
2 c cooked chicken breast, shredded
1/2 c fat-free sour cream
1/4 c fresh cilantro, chopped
Instructions
Preheat oven to 400 degrees F. Combine 1/4 cup cheese and next 7 ingredients (through chiles) in a large bowl, stirring just until moist. Pour mixture into a 13 x 9–inch baking dish coated with cooking spray.
Bake for 15 minutes or until set. Pierce entire surface liberally with a fork, then pour enchilada sauce over top. Top with chicken, then sprinkle with remaining 3/4 cup cheese over top. Bake for another 15 minutes, or until cheese melts.
Remove from oven and let stand for 5 minutes. Cut into 8 pieces and top each serving with 1 tablespoon sour cream and cilantro, if desired.
Adapted from: Cooking Light, November 2008
http://mybakingheart.com/2012/08/30/chicken-tamale-casserole-with-a-little-help-from-glory-foods/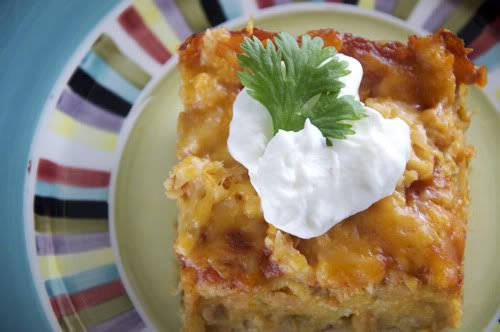 Try out the 'Product Locator' on the Glory Foods site… where you can search for all 62 of their products and find a store near you that carries the line!

Disclosure: Glory Foods provided me with a gift basket of products for sampling. All photography & opinions are my own.