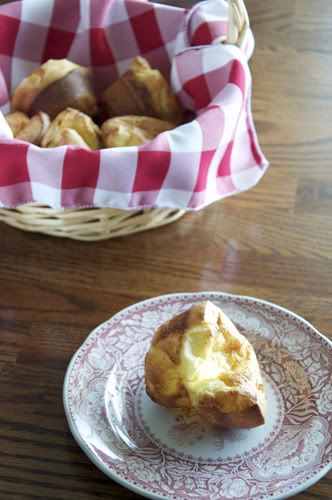 The temps are starting to (slightly) fall, we're receiving more rain and the leaves are showing just a tinge of orange. So what better breakfast treat for this lazy, hazy Tuesday morning than a popover?
They're a bread that I've never ever had the chance to make, but yet I've always wanted to. In the back of my mind, I thought they were very complicated and fussy, especially with their special, fancy pan. And Lord knows that just what I need is another pan! However, this was one of the easiest recipes I've ever made… and I didn't even need that new pan to do it with. Just remember to bring your eggs and milk to room temperature before mixing!
I don't know what was more fun… making them or eating them! 🙂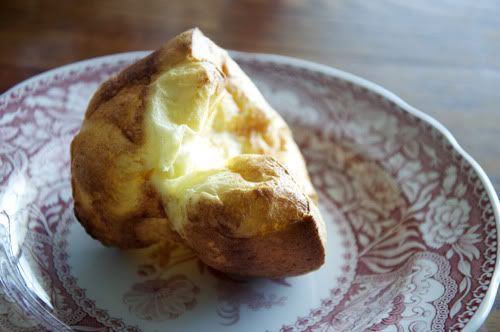 Paula of Vintage Kitchen Notes and Amy of Bake With Amy are our sweet hostesses for the week. Either of their blogs will have this easy recipe listed. And if you're interested to see the other bakers' popovers, then pop over (hee, hee!) to the 'Leave-Your-Link' post on Tuesdays With Dorie!
Popovers (pg. 213)
Source: Baking With Julia by Dorie Greenspan