A classic recipe. It's made the rounds in cookbooks and on the blogosphere worldwide. It's also one that is a year-round favorite on the paternal side of my family.
I can remember Mango whipping up this side dish for many a get-together. Whether it was a weeknight dinner with her and my grandfather, or Christmas Eve, with thirteen of us in the house, it didn't matter. It paired great with whatever menu she was serving. And it was me, who was in charge of adding in the raisins. Why that was so special to me, I'll never know, but it popped into my mind the minute I added these in just last week. A huge grin erupted and I ended up enjoying a big 'ol bowl of this salad for dinner.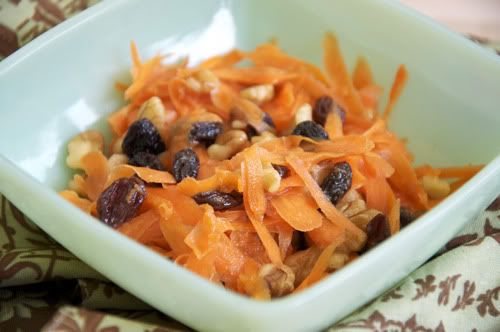 Still don't own the book and need the recipe? You're in luck… Bon Appétit keeps it in their 'Recipe Box' for an occasion such as this! Just click here and it's yours. And if you're interested in seeing how the other Doristas spun this one, check out the 'Leave-Your-Link' post over on FFwD!
#99 – Café-Style Grated Carrot Salad (pg. 107)
Source: Around My French Table by Dorie Greenspan