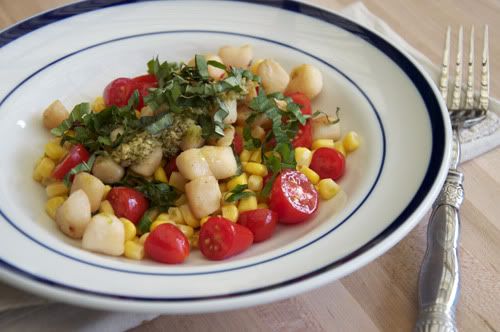 This was originally scheduled as #98 in our series of dishes for French Fridays with Dorie, but with life in high gear at the moment, I wasn't able to post it last Friday. So what better dish to serve then, on Ms. Julia Child's 100th Birthday?
Bright, fresh and bursting with flavor, this Warm Scallop Salad is filled with good-for-you ingredients. It comes together in no time, especially since two of the three steps can be made ahead of time. And as we enjoyed this for dinner, I began to think about what an amazing woman Julia Child was and the collective impact that she's had on the food world. Without her books, TV episodes and the influence she had on Dorie Greenspan, I probably wouldn't be as involved with food as I am today.
Happy Birthday, Ms. Julia… I hope you're looking down on us and smiling!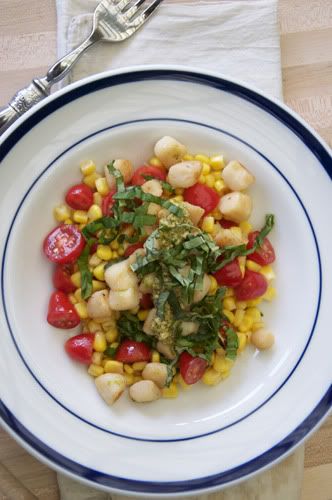 Warm Scallop Salad with Corn & Basil
Ingredients
Dressing:

3 tbsp fresh lime juice
1-1/2 tsp finely grated lime peel
1/8 tsp piment d'Espelette or chili powder
3 tbsp extra-virgin olive oil
Fleur de sel

Basil Puree:

3/4 c (loosely packed) fresh basil leaves
1/4 c extra-virgin olive oil
Fleur de sel

Salad:

1 lb bay scallops, patted dry
Olive oil, for brushing
1-1/2 c fresh corn kernels, cut from 2 large ears of corn
24 grape or cherry tomatoes, halved
1/3 c thinly sliced basil leaves
Fleur de sel
Instructions
For Dressing:
Whisk lime juice, lime peel, and piment d'Espelette in small bowl. Gradually whisk in oil. Season with fleur de sel and pepper. This can be made 1 day ahead. Chill. Bring to room temperature before using.
For Basil Puree:
Blanch basil in small pot of boiling salted water 30 seconds; drain. Squeeze to remove as much water as possible, then coarsely chop. Puree basil and oil in blender until smooth. Transfer to small bowl. Season to taste with fleur de sel. This can also be made 1 day ahead. Cover and chill. Return to room temperature before using.
For Salad:
Prepare barbecue (medium-high heat). Brush scallops with oil; sprinkle with salt and pepper. Grill scallops until slightly charred and cooked through, about 2 minutes per side. Transfer scallops to plate.
Arrange scallops on serving plates. Toss corn and 2 tablespoons dressing in medium bowl. Toss tomatoes with 1 tablespoon dressing in another bowl; season to taste with salt and pepper. Spoon corn around scallops. Scatter tomatoes over corn. Drizzle some dressing over scallops, then spoon some basil puree over. Sprinkle sliced basil and fleur de sel over corn and tomatoes and serve.
Adapted from: Around My French Table by Dorie Greenspan (Warm Scallop Salad with Corn, Nectarines & Basil, pgs. 320-321)
http://mybakingheart.com/2012/08/15/warm-scallop-salad-for-julias-100th-birthday/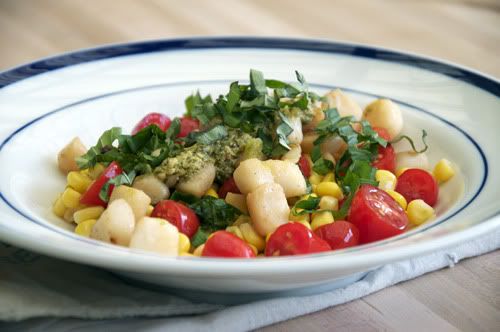 Bon Appétit!