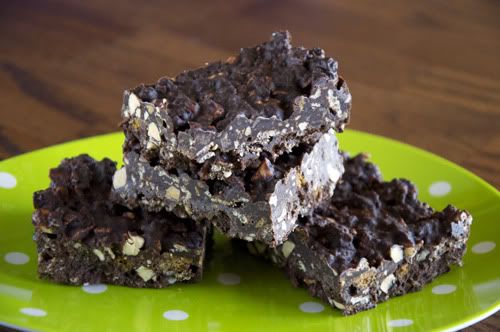 Back to school, back to school! Can you believe it's already August and that classes begin in just a matter of days (or weeks, for those lucky few!)?
These easy No-Bake Chocolate Cookie Squares require no baking, and are sweet, crunchy and delectable after just an hour's chilling in the fridge. They're ones I would've loved to have had as an after-school snack (or even as a fancy treat in my Sesame Street lunchbox!). Get the kiddos involved and let me know what you think!
No-Bake Chocolate Cookie Squares
Ingredients
1 c gingersnaps
5 sheets chocolate graham crackers
8 oz dark chocolate
5 tbsp light corn syrup or golden syrup, such as Lyle's
6 tbsp unsalted butter
1/4 c peanuts, coarsely chopped
1 c Rice Krispies cereal
Instructions
Lightly grease and line a shallow 8" square pan. Break the gingersnaps and graham crackers into pieces, place in a plastic bag, and crush with a rolling pin to form coarse crumbs.
Melt the chocolates, syrup and butter in a heatproof bowl over a pan of simmering water. Stir in the crumbs until well coated. Add the peanuts and mix, then stir in the Rice Krispies.
Spoon the mixture into the prepared pan, and level the surface by pressing down with a potato masher. Allow to chill in the fridge for 1 hour, then cut into squares. Store in the fridge before serving.
Adapted from: DisneyFamily.com
http://mybakingheart.com/2012/08/07/live-sigma-kappa-no-bake-chocolate-cookie-squares/