This Friday's French dish is the bright and flavorful Lemon Barley Pilaf. It's one (among many others) that I marked as a definite 'to-make' the minute I had this big, beautiful book in my hands. Why it took me until now to do so, I'm not sure. However, it was perfect timing, as the cook time is quick and the flavors are light & zesty… a beautiful complement to the sweltering summer temps we've got down here in Texas at the moment.
It was a wonderful side dish to the grilled chicken and garden salad we enjoyed for dinner this past Tuesday night and I can't wait for the opportunity to make it once more. C heads out of town yet again next week, so I might just cut this in half one night for my lovely little self. Sounds like a plan, right? 🙂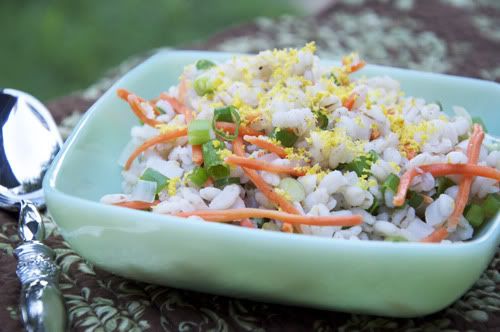 If you don't have this book lovingly placed on your bookshelf just yet, have no fear. You can find the recipe on Epicurious, direct from Ms. Dorie herself. And if you're interested in seeing who else participated this week, head over to the 'Leave-Your-Link' post on the FFwD site!
#96 – Lemon Barley Pilaf (pg. 383)
Source: Around My French Table by Dorie Greenspan