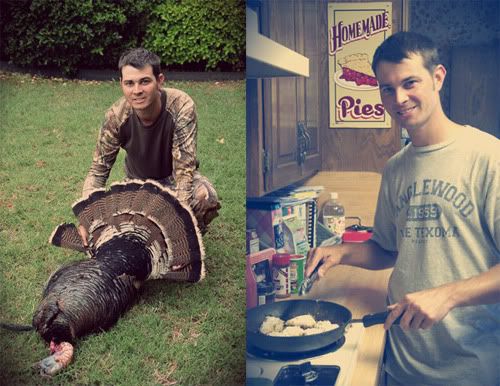 He's a hunter AND a chef, ladies!
After nearly three years of a mention here and there, it's finally time to formally introduce you to 'C'. His first venture onto the blog was a short one, but nevertheless, he was here to stay. And because of that, 'My Baking Heart' will never be the same… both the blog and mine.
The trophy he's holding above is the same one that's breaded up and fried in the photo below. C shot this turkey (his first!) three months ago and after cleaning it & freezing the meat, the tail, beard & hooks are headed for the wall. And that meat? It's just been waiting to be eaten! Little did I know that he was such a good cook, too… especially with wild game.
I took down the following recipe as he prepared dinner last Monday night. He may be a pro at many things, but following cups and tablespoons is not one of them. So, I've adjusted a few things here and there for you measurement sticklers out there. I'm not a huge fan of gamey dishes, but this turkey has none of that bitter taste. It's moist and takes to marinades, seasonings & breading just as easily as chicken. Honest. (Biased opinion aside). 😀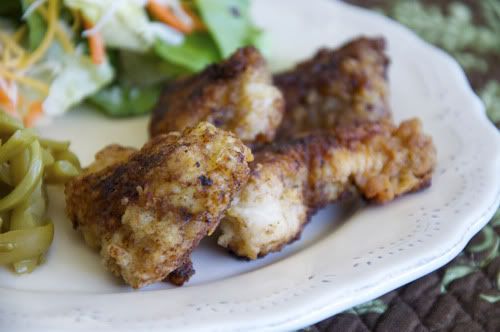 Ingredients
1 boneless, skinless wild turkey breast, sliced thinly across the grain
2 c whole milk
2 lg eggs, beaten
3 c flour
2 tsp garlic powder
1 tsp freshly ground pepper + extra for breading
1/4 tsp Kosher salt + extra for breading
1-1/2 tsp Lowry's Seasoned Salt
1-1/2 tsp Tony Chachere's Original Creole Seasoning
Olive oil
Instructions
Cut the turkey breast across the grain into medium-sized chunks. Rinse the pieces and let them drain well. Marinate the slices in a mixture of milk, salt and pepper for several hours or overnight in the refrigerator.
When ready to cook, beat the two eggs in a medium bowl and keep at hand. Whisk together the flour, garlic powder, salt, pepper, Lowry's and Tony's; keep this at hand, as well.
Heat a tablespoon or two of olive oil in a large skillet (just enough to cover the bottom of the skillet). Remove turkey from marinade one piece at a time, then dip in the egg mixture, roll in the flour & fry in the hot oil. Fry until golden brown (4-5 minutes), flipping each piece once to fry the other side, then remove from the skillet and cool on a paper towel-lined baking sheet. Flipping the meat more than once tends to loosen the coating and it will fall off.
http://mybakingheart.com/2012/07/20/cs-corner-pan-fried-wild-turkey/