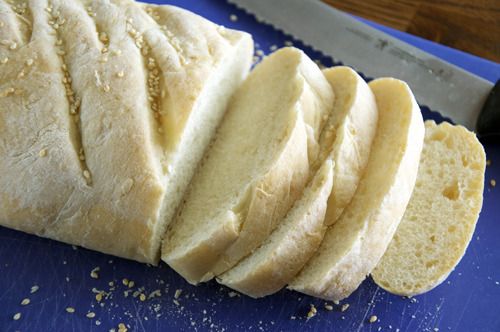 While this loaf requires quite a bit of rising time (6+ hours), it's most certainly an easy one to put together. Just a bit of yeast, a few cups of flour, a little water, salt and olive oil and that's it! I did take a little bit of liberty and add the sesame seeds to the top. Just mist the loaf with water and sprinkle them over before placing in the oven to bake. Once ready, it reminded me of the Sesame Semolina that Panera Bread uses on their Napa Almond Chicken Salad sandwich. Delicious!
And for yesterday's breakfast? It was absolutely wonderful toasted… as a side to an egg-white omelette and freshly sliced peaches. Lucky for me, there's 3/4 of the loaf left! 😉
Renee of The Way to My Family's Heart and Anna of Keep it Luce are our hostesses for the week. Check out either of their blogs for the original recipe and for a list of baking beauties that participated, click over to the 'Leave-Your-Link' post!
Sesame Semolina Bread (pg. 102-103)
Adapted from: Baking With Julia by Dorie Greenspan