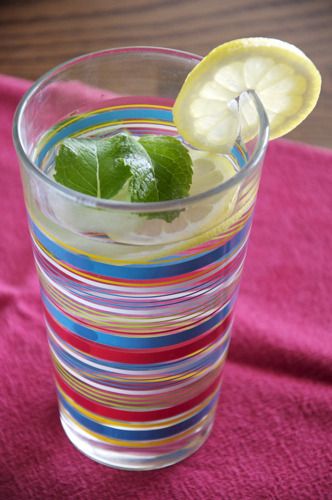 Refreshing, bright and pure. This water is a component to Prevention Magazine's Flat Belly Diet. And while I don't follow this plan, anything that tastes great and is good for me, too… I'm all for.
The instructions call for you to drink the entire two liters throughout the course of the day, thus fulfilling your suggested amount of daily water intake. It helps maintain your body's proper fluid balance, guards against water retention & bloat and it's perfect for a Summer cool-down. So, pull up a chair and have a sip!
Ingredients
2 ltrs water (about 8-1/2 c)
1 tsp freshly grated ginger
1 md cucumber, peeled and thinly sliced
1 md lemon, thinly sliced
12 sm spearmint leaves
Instructions
Wash the cucumber, lemon and spearmint leaves and pat dry. Prepare ginger, cucumber and lemon, then combine all ingredients in a large pitcher and let flavors blend overnight. Drink the entire pitcher by the end of each day.
Source: Prevention Magazine
http://mybakingheart.com/2012/07/13/sassy-water/